The H Pylori Bacteria
Causes Lots of Health Issues
Before the H pylori bacteria was discovered in 1982, doctors used to believe that the cause of stomach ulcer was stress. Then scientists found that the Helicobacter Pylori bacteria, more commonly known as H pylori bacteria, was present in most cases of non-NSAID induced ulcers. After this discovery, doctors abandoned the idea that stress was the cause of stomach ulcer.
Too bad they are missing the big picture.
What they are missing is that stress compromises the Immune System allowing the bacteria to proliferate in the stomach and cause ulcers- and the poor immune system also prevents effective Helicobacter Pylori Eradication as well!
So, really, they WERE right before…. Stress DOES cause ulcers –by weakening the immune system and allowing the Helicobacter pylori bacteria to settle in the stomach and cause ulcers!!
What is the H Pylori Bacteria
And How Do We Get it?
Helicobacter pylori bacteria, known more commonly as the H pylori bacteria are spiral shaped pathogens that live in the intestinal tract. The discovery in 1982 that it caused ulcers was so paradigm shifting in the medical community that the discoverers won the Nobel Prize!
H pylori infection is confusing to doctors and scientists alike. It is well documented that H Pylori is Contagious, can cause Stomach Burning, lead to ulcers, inflammation of the stomach lining, and gastric cancer
But its confusing nature comes up when it's ALSO been shown to DECREASE the incidence of gastro esophageal reflux disease (GERD) and esophageal cancer! Helicobacter pylori bacteria also produce an antibacterial substance that is probably responsible for the decreased incidence of diarrhea in children with H pylori infection.
Wow, what a conundrum!
To make it even MORE confusing, it seems that up to 50% of the population may have H pylori infection – even children-  and most people have no symptoms. Or they have symptoms such as Too Much Stomach Acid, and they are given Acid Reflux Medication and told to go on about their business with never a thought of WHY they might experience such symptoms or the long-term Side Effects of Omeprazole and other acid-lowering medications. 
Like other pathogens, H Pylori is Contagious and can be transmitted by close contact with others, particularly from kissing- even mother-baby type kissing, or by ingesting contaminated food or water.  
Why It Can Be Bad for You
Another theory about Helicobacter pylori infection that would explain this seeming paradox, is that the bacteria is FREQUENTLY present in normal healthy people where it does not cause any problems, and may even be beneficial because, like exercise, it puts a very mild stress on  our immune system, a condition called 'eustress', that can be good for us, and our Immune System can keep it in check.

But when your Immune System Health is compromised and particularly when the Good Bacteria in your gut are altered, or you have a chronic illness, it allows the bacteria to flourish in larger amounts than we can fight off. And THIS is when the H pylori bacteria begins to cause problems, and can contribute to or be the primary cause of Vitamin B12 Deficiency, Food Allergies such as Gluten Sensitivity, and even Fibromyalgia. At this point, when it causes problems, most people will feel significantly better when they get an H Pylori Test and go through successful H Pylori Eradication. 
H Pylori and Chronic Health Issues
While a LOT has been researched about H pylori infection as the cause of stomach ulcers and Stomach Burning, virtually NOTHING has been said about H pylori bacteria and its contribution to chronic illness. Unfortunately, the H pylori bacteria causes inflammation of the stomach lining and Increased Intestinal Permeability in ALL cases. How MUCH inflammation and intestinal permeability there is, is dependent upon how bad the infection is, but these are ALWAYS PRESENT!!
This may not be a problem for people who are very healthy, and in these cases, it should not be treated. But INFLAMMATION, INFECTION and INCREASED INTESTINAL PERMEABILITY ARE ALWAYS STRESSORS TO THE BODY and can contribute to many Symptoms of H Pylori that many people unknowingly experience. 
So if you have ANY chronic health problems or are just feeling tired and run down all the time- H Pylori Research shows that if you HAVEthe bacteria, then it could be contributing to these health problems and possibly even be the Cause of Food Allergies and some cases of Vitamin B12 Deficiency from Vitamin B12 Malabsorption!
Traditional medicine does not agree with this view, however, so unless you have severe gastrointestinal problems it's unlikely that your doctor will suspect H pylori infection, let alone test you for it despite the fact that it only takes a simple H Pylori Blood Test, H Pylori Breath Test, or even an in home H Pylori Stool Test. 
Could You be Infected? 
Smart practitioners know that it is very wise to do H Pylori Testing on anyone with almost ANY complaints that can't be explained by something else. These practitioners know that H pylori infection can cause any number of Symptoms of H Pylori that seemingly have nothing to do with the digestive tract.
But sure enough, when Helicobacter Pylori Eradication is effective, the person feels better from the decreased inflammation and infectious load on the body.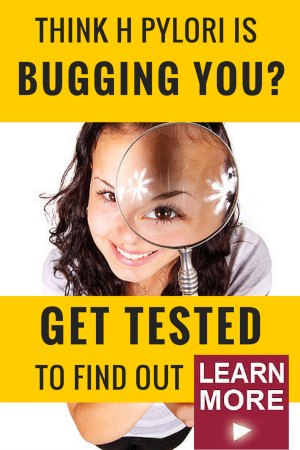 While many people would find this hard to believe, it's NOT uncommon at all. Let's take the example of a cold or flu. When you have a cold or flu, you often feel tired, run-down, have body aches and can't concentrate –right?
So why would those same problems be considered strange when you have an H pylori infection? ANY infection can cause those same symptoms because your immune system is working hard to get rid of some foreign invader in your system.
So, could YOU have the Helicobacter Pylori bacteria? You should keep reading to learn more about the Symptoms of H pylori infection and H Pylori Treatment too. .
Next --->
Symptoms of H pylori infection
H pylori Resources
Have a Question about H Pylori?
Do you have a question about H Pylori? Ask your question here.

IMPORTANT: You MUST leave your EMAIL ADDRESS if you want a response to your question. There is NO OTHER WAY for you to KNOW that I responded!!
Already Answered Questions about H Pylori
Click below to see already answered questions about H Pylori?