What's the Best 
H Pylori Treatment for You?
Standard H pylori Treatment is known as 'eradication', and that is exactly it's goal- eradication of a bacteria called Helicobacter Pylori that has infected your stomach. If you are reading this, it's likely that you either HAVE or think that you might have the H pylori bacteria and are wondering what the treatment is. So, that's exactly what we'll cover in this page.
If you haven't already, you should first read the H Pylori Bacteria page so that you are familiar with what this bacteria is all about. We'll assume that you've been Tested for H pylori and that you are positive for it and that you want to know what to do now.
Well, if you go to your doctor, you'll get told about ONE treatment for H pylori. This 'standard medical treatment' relies on taking a combination of antibiotics and a prescription antacid. This combination is usually comprised of 3 or more different pharmaceutical drugs and is knows as H pylori triple therapy. This H pylori treatment can have uncomfortable side effects like:

Diarrhea
Flu-like symptom and, depending upon whether they prescribe Quinolone Antibiotics, it can even cause:
Disability
Tendon rupture or severe tendon pain. 
Additionally, all antibiotics can kill off the 'good' bacteria in your gut leading to the intestinal overgrowth problems of:
And to top things off, the treatment for H pylori may not even work! With failure rates of up to 35% , the chances are about 1 in 3 that you might need to get H pylori triple therapy a second or even a third time in order to completely eliminate the bacteria.
Do You Even Need H Pylori Treatment?
H Pylori Treatment is technically known as H Pylori Eradication, and there is actually quite a bit of controversy about whether people should get H pylori treatment at all unless they have severe Symptoms of H Pylori such as bleeding ulcers. While there are thousands of people out there with H pylori that is not bothering them, if you are looking for answers about H pylori here, it's likely because you are having some health problems.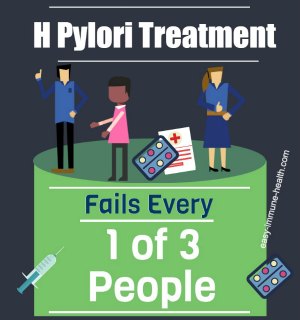 While your doctor will not necessarily agree with this, if you have an ongoing health problem of ANY kind and you have H pylori- then it's a good idea to get rid of it. While H pylori is not necessarily the CAUSE of your health problems, an H pylori infection in your stomach IS an infection- and all infections cause some degree of inflammation and immune reactions in the body. Infection and inflammation are NEVER good processes to have going on and you can understand how any infection can just simply make you feel bad all the time.
Very healthy people may not even notice the excess stress, but in someone who already has a health problem, that excess stress may be causing some serious problems. And getting rid of it can make people feel better- sometimes DRAMATICALLY better!
Are There Other Treatment Choices?
Your doctor will only tell you about antibiotics for H pylori treatment, but there ARE effective alternatives to antibiotics and herbs that can be used in cooperation WITH antibiotics to make them more effective. These herbs and natural substances have been used safely for generations and have many studies showing their effectiveness against H pylori.
So, really you have 3 choices for the treatment of H pylori:
Antibiotics alone
Antibiotics with herbal supplements to increase the effectiveness of the antibiotics
Herbal remedies by themselves without antibiotics
I'll bet that you're doctor didn't tell you about these options. If you do choose any of the options with herbs, then you'll want to consult a qualified practitioner who is familiar with their use or you can get The The H Pylori Solution, which I created specifically to help you decide which choice is the best for you and exactly which supplements to use either with antibiotics or by themselves.
Next --->
The H Pylori Solution
Have a Question about H Pylori?
Do you have a question about H Pylori? Ask your question here.

IMPORTANT: You MUST leave your EMAIL ADDRESS if you want a response to your question. There is NO OTHER WAY for you to KNOW that I responded!!
Already Answered Questions about H Pylori
Click below to see already answered questions about H Pylori?
H pylori
i had the treatment for the H pylori and still having stomach pain in rib area how long do I need to take the antacid?
Herbs to kill H-Pylori
I just need to know which herbs kill H - Pylori and the amount needed and for how long ? many thanks , Linda
Back to Top of H Pylori Treatment 

To Easy Immune Health Home