Is H Pylori Contagious? 
Does it Even Matter? 
I often get asked, "Is H Pylori Contagious?" by those who are concerned that they may be able to transmit their H pylori to their family. My answer is that 'It Depends' and 'In most cases, it doesn't matter' is a bit confusing because it doesn't depend upon the H Pylori, it depends upon YOU. You see, the H pylori bacteria is endemic and there is almost no way to avoid being exposed to the bacteria. In fact about half the entire world's population has the H pylori bacteria and it IS contagious under the right circumstances, but the vast majority are not even sick! Unlike when you 'catch' the flu, 'catching' H pylori is virtually meaningless for most people.  

Is H Pylori Contagious 
From Person to Person?
The H Pylori Bacteria can be transmitted from person-to-person with close contact. Even minor family contact like a mother kissing her baby or sharing drinking glasses can transmit the bacteria. This means that if one person in the family gets an H pylori infection, then the rest of the family is certainly going to be exposes. However, many people are exposed to H pylori for years and don't become infected. Even if they do become infected, it's often meaningless and does not cause any problems. This is not the flu, it's just a bacteria, and many people live their whole lives exposed or infected without any problems whatsoever.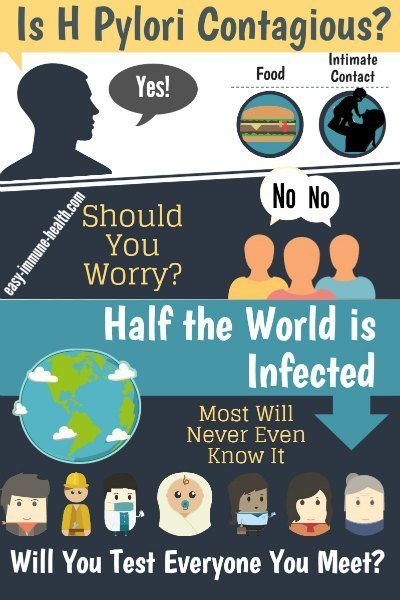 It's also a bit more complicated than just being exposed to H pylori. The conditions must be right for the person to actually get infected with H pylori. When people ask, "Is H pylori Contagious" it's only contagious when YOUR immune system is poor and you are susceptible to it. In fact, one study uses the term 'Failure of the Immune System' to describe those who get an H pylori infection. But again, in most cases, it's irrelevant. Additionally, it's literally impossible to prevent being exposed to H pylori. So, the question of Is H Pylori Contagious is just the wrong question in the first place. 

Humans are exposed to literally trillions of bacteria- both ones that make you sick and ones that don't- yet we don't get sick from all of them. And even in the same office when a cold is 'going around', there are ALWAYS people who don't get the 'bug'. And this is the same with the H Pylori Bacteria; it's your Immune System Health that allows you to get the H pylori bacteria. This is why the bacteria is prevalent around the world, but it is MORE prevalent in poor inner city areas and third world countries where nutrition is poor and living conditions are worse.
Instead of asking "Is H Pylori Contagious", a better question to ask is "Under what circumstances does someone's Immune System allow them to get an H pylori infection". Another good question is "When and why does having an H pylori become a problem?" Because, again, most of the time, H pylori is not a problem.  
Is H Pylori Contagious Through Food?
H Pylori can also be transmitted through food, particularly under cooked eggs and meats. But there is no way of knowing whether your food has H pylori in it because, unlike other food borne bacteria, it doesn't affect the quality of the food. So, assessing your food for its smell or quality is not an effective strategy against keeping the bacteria out of your food. Again, H pylori is everywhere. It is impossible to consciously avoid it. Even if you were to completely avoid animal products, you can still be exposed to the H Pylori Bacteria through casual contact with other people, and probably even from the salad bar.
From People Without Symptoms?
One of the problems with H Pylori is that, unlike colds and flu, people don't always show Symptoms of H Pylori, and in fact the majority of people with H pylori are 'silent carriers'. Even children who might seem to be healthy can be 'colonized' with H pylori and not know it. The biggest problem with this from YOUR perspective is that if you or someone in your family is undergoing Treatment for H pylori, known as Helicobacter Pylori Eradication, then these people who are silent carriers may simply give the bacteria back to the infected person again and again- making it appear that the treatment has been ineffective when the person is simply being reinfected.
For this reason, it is ideal that if one person in a family is getting H Pylori Treatment, IF they have serious symptoms, then the rest of the family be tested and treated even if they don't have any Symptoms of H Pylori.
Unfortunately, the one symptom that very often DOES indicate the presence of H pylori- heartburn- is not considered serious by doctors who will simply give a prescription antacid. This is despite the fact that there are many studies that advocate that symptoms of Stomach Burning SHOULD include testing for H pylori using an:
and treating the H pylori -if it is present- instead of simply putting someone on long-term antacid therapy. If doctors WERE to do this, it would reduce the incidence of H pylori carriers who are transmitting the bacteria to others- as well as treating the CAUSE of why people are experiencing the sensation of Too Much Stomach Acid –while preventing them from experiencing the damaging problems of nutrient deficiencies and osteoporosis that long term use of prescription antacid drugs can cause.
So, the answer to, Is H Pylori Contagious is a definite YES. However, keeping your Immune System Health strong and powerful is the most important component of preventing infection and reinfection after Treatment for H Pylori. Since it is impossible to avoid coming into contact with this bacteria that infects almost half the world's population, it's YOUR responsibility to improve your immune system to keep from infecting others and from becoming infected with the H pylori bacteria. 
If you have H pylori and are experiencing symptoms, make sure you take a look at my book, The H Pylori Solution, and learn how to get rid of H pylori once and for all. 

H pylori Resources
Have a Question about H Pylori?
Do you have a question about H Pylori? Ask your question here.

IMPORTANT: You MUST leave your EMAIL ADDRESS if you want a response to your question. There is NO OTHER WAY for you to KNOW that I responded!!
Already Answered Questions about H Pylori
Click below to see already answered questions about H Pylori?
Back to Top of Is H Pylori Contagious 

To Easy Immune Health Home Page