You Don't Want a
Normal Vitamin D Level...
Here's Why
Ask your doctor what a Normal Vitamin D Level is and, likely, he won't even know the right name of the Vitamin D blood test to look up to find the answer. Most likely, he won't even know why you want the vitamin d blood test in the first place! But because you will have read this, you will have the information you'll need to educate your self and your doctor on the overwhelming amount of Vitamin D research that shows what a Normal Vitamin D Level and a Low Vitamin D Level is. Most often there are no Symptoms of Vitamin D Deficiency until it is too late and you have a serious chronic illness,that you probably haven't even related to the Low Vitamin D Level in the first place.

And even though Vitamin D is VERY safe and rarely has any problems with Vitamin D Overdose or toxicity, there is a small chance of taking too much. But unless you are taking VERY large doses of Vitamin D for extremely long periods of time, most people should have their Vitamin D levels checked, not because the level might be too high, but because you probably have Vitamin D Deficiency.  In other words, your Vitamin D Blood Test will likely be too low - even if you are otherwise healthy! Either way, having your Vitamin D levels checked and knowing what a normal Vitamin D level is, is extremely important for your health.
How to Order a Vitamin D Test
First of all, the Vitamin D blood test is called
Vitamin D 25 Hydroxy level
OR
25(OH)D level
 
that's a letter O and not the number zero.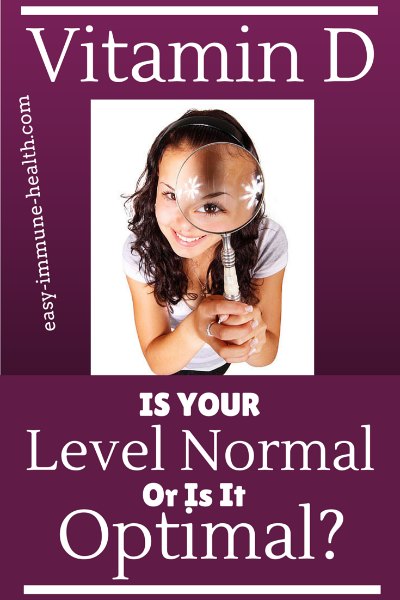 Come armed to your doctor's appointment with this information in the likely event that he doesn't know the name of the blood test for Vitamin D. If your doctor doesn't Understand Blood Test Results - you might get the wrong test. There is another blood test for Vitamin D, called: 
Vitamin D, 1,25 Dihydroxy level

or 
1,25(OH)(2)D. 
The Dihydroxy test, while having a similar sounding name and is also often called a 'Vitamin D Level', does not test for the kind of vitamin D you get from food, sun, and supplements. ALL clinical trials and Vitamin D research are done using the Vitamin D 25 Hydroxy Test, and your doctor should use that one too. 
What is a Normal Vitamin D Level?
The question that you REALLY want to know is,"what are OPTIMAL Vitamin D levels." Every laboratory has a 'reference range' that is unique and depends upon many different factors. Often they take a range of 'healthy' individuals and create an average range after excluding a certain percentage from the low range and the high range.Voila, they determined the normal Vitamin D level.
But in the Symptoms of Vitamin D Deficiency page, you learned that a very high percentage of the population, has a low Vitamin D level; either from simply not getting enough, from poor Vitamin D Absorption, or not having the proper cofactors. 

"Vigilance of one's vitamin D status 
by the yearly measurement 
of vitamin d 25 hydroxy level should be 
part of an annual physical examination."
-Michael F. Holick, 'The Vitamin D Epidemic and its Health Consequences'
So, if you take a blood test for Vitamin D and get an average number for a group of people who are Vitamin D deficient, then you have numbers that are on the low side, right? One study summed this up very well by saying, 

"Historically, a 'normal' nutritional vitamin D status has been defined as just about any circulating level of vitamin d 25 hydroxy in asymptomatic subjects."

And you don't want to have a low or even normal vitamin D blood test, you want to have an OPTIMAL vitamin d 25 hydroxy level. This is because the mounds of research on vitamin d show that different vitamin D levels can prevent the incidence of different diseases, such as are outlined on the Symptoms of Vitamin D Deficiency page. If you have levels on the lower end of the chart, you'll leave yourself vulnerable to problems such as Multiple Sclerosis and Cancer that, research shows, higher vitamin D levels create lower incidences of. 
So, What is an Optimal Level?
Well, there is Vitamin D research that addresses this question specifically, so we'll use these studies to help you to decide. The study  Vitamin D Status Indicators in Indigenous Populations in East Africa  is probably one of the most important works, as it most closely approximates what Vitamin D Levels our ancestors would have had. The study showed that the average Vitamin D Level of the indigenous adults studied studied was 42 ng/ml (106.8 nmol/L). 


The study, 'Calcium and Vitamin D Diagnostics and Therapeutics' states,


"It is quite possible that there are two levels of vitamin D sufficiency. One level requires that the serum vitamin d 25 hydroxy levels be at least 20 ng/mL to satisfy the body's requirement for… calcium absorption, bone calcium mobilization and bone mineralization. The second level may need higher circulating levels of vitamin d 25 hydroxy for maximum cellular health..."
It's important to notice that the Normal Vitamin D level is reported in two ways: ng/ml or nmol/l. Translated, these mean 'nanograms per millileter' and 'nanomoles per liter'. It's much as if you reported your driving speed in miles per hour or kilometers per hour. They measure the same thing, but use different standards of measurement. If you need help to convert one of these numbers to the other, you can use this Vitamin D Calculator. 

One thing to remember is that your doctor is used to reporting only 'abnormal' laboratory results to patients and they generally don't give out exact numbers because most patients don't know what the numbers mean.

But for those who want to be Understanding Blood Test Results, you need to ask your doctor for the exact number and have him tell you the units measured as nanograms per millileter or nanomoles per liter. That way there is no confusion.
What do you do if you have a Low Vitamin D serum level?
You should ALWAYS discuss Vitamin D Therapy with your doctor in case there are reasons why you should not take these supplements and to keep him on board for your yearly Vitamin D serum level checks.
But most likely, he will not know what the current Vitamin D research says about Vitamin D supplementation – you might want to print out a copy of this page and the Vitamin D Dosage page, save a copy for yourself and give a copy to your doctor. Then, keep reading to find out which diseases you can be reducing your risk of by taking higher levels of Vitamin D. 
Next ---> 
Vitamin D Deficiency Treatment
Normal Vitamin D Level Resources
Still Have a Question
About Vitamin D
Ask it Here
See Already Answered Questions about Vitamin D Blood Levels
Click below to see already answered questions about Vitamin D Blood Levels.