Vitamin D Deficiency Treatment
More Than Just Taking a Vitamin
Vitamin D Deficiency Treatment is becoming a big issue as more and more people are becoming aware of the importance of having a Normal Vitamin D Level. Getting to a normal vitamin d level is simple in theory, but harder to do in actual practice. The 'short answer' to,"What is the right Vitamin D Deficiency treatment is to simply get a high enough Vitamin D Dosage to get a Normal Vitamin D Level. While that SOUNDS easy, it may not be as simple as you might think..

What is Vitamin D Deficiency? 
Naturally, this would be the first question to answer before we can actually TREAT vitamin D deficiency. I've answered this question on the Normal Vitamin D Level page, and you should go there right now to find out what your vitamin D level SHOULD be- and the answer is NOT the same answer that is on your lab sheet. The lab sheet does not provide you with what the 'optimal' Vitamin D Levels are. And many researchers believe that the low level on your lab sheet is WAY too low and should be considered "vitamin D Insufficiency" rather than 'Low Normal Vitamin D Level'.
Vitamin D Deficiency Treatment
Protocols
It is becoming more and more apparent that the Vitamin D Dosage required for a normal vitamin D level is
MUCH
higher than you might think. In fact, it is such a large amount that many doctors just won't give enough to actually correct the deficiency- although this is changing as doctors are becoming more experienced with vitamin D deficiency treatment.
If you have even mild Vitamin D Deficiency, it is likely that you will need to be taking approximately 50,000 IU's per week for 4 to 12 weeks. If you have SEVERE deficiency, then you may need to be taking Vitamin D Supplements as high as 50,000 IU's per DAY for a month or even two months until getting a repeat Vitamin D Serum Level. Some doctors may even give a Vitamin D injection of 600,000 IU's once a month for several months until your Vitamin D Level gets up to the 'Optimal Range' of 40 to 80 ng/ml.
While these doses may seem VERY high to those who are not used to them, they are all acceptable dosages for Vitamin D Deficiency Treatment. There is little risk of a Vitamin D Overdose as long as you are getting your Vitamin D Level checked every few months of treatment and then at least every year thereafter. In fact, there has NEVER been a documented case of Vitamin D Overdose on 10,000 IU's per day or less, in an adult, even when taken for several years!
But the KEY is to get your Vitamin D Levels checked every 3 to 4 months during these high dose treatments- as much because of risk of overdose as for the risk of your levels staying TOO LOW!! Vitamin D is a fat soluble vitamin (that is really a hormone- see the Vitamin D Facts page for more information) that requires good liver function to convert what's taken into the body into its active form in the blood. So particularly if you are large and/or you have poor liver functioning and/or you have had heavy exposure to toxic substances (and we all have these days), it may be difficult for you to get your levels into the optimal range and may need lengthy treatment and monitoring by a practitioner skilled in the use of Vitamin D supplementation.
Maintaining Vitamin D Forever
When you've completed Vitamin D Deficiency Treatment, and you now have a Normal Vitamin D Level, some people stop here and then wonder why they have vitamin D deficiency again a year later, or two years later. But you need a maintenance dose of vitamin D, and you need it forever!  For surprising information on the RIGHT Vitamin D Dosage to be taking to maintain your Normal Vitamin D Level, see the Vitamin D Requirements page and see what you might be missing!
Next --->
Vitamin D Requirements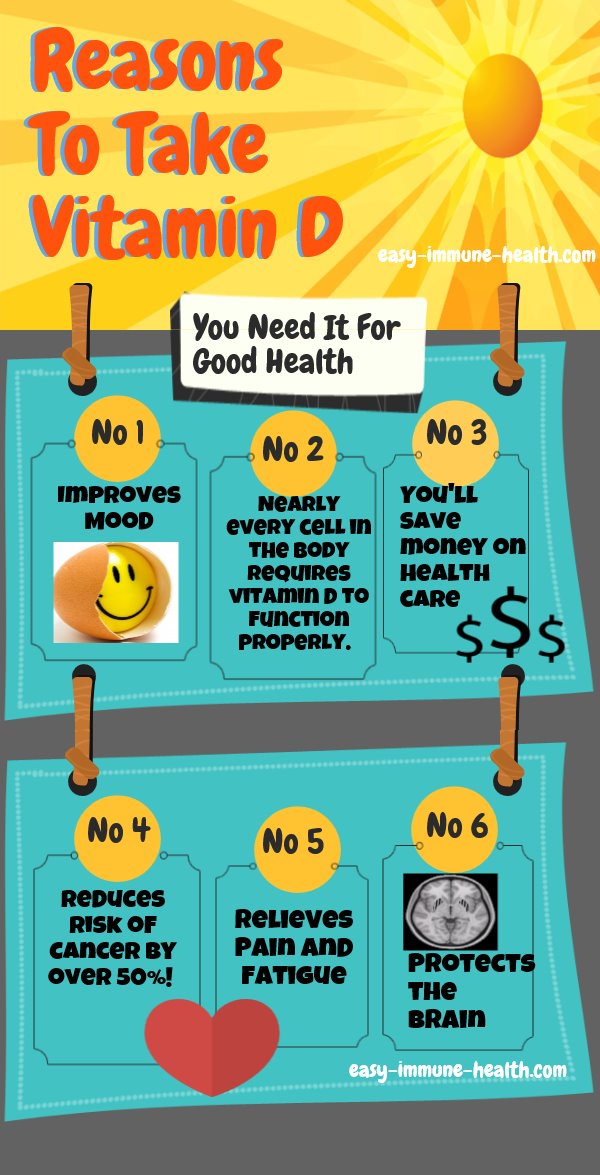 Vitamin D Resources
5000 IU Vitamin D 3 Supplements- Vitamin D3 is really theONLY vitamin d that you should be taking. Get Vitamin D 3 in a clinically relevant dose for adults
Sunshine Mist Vitamin D Spray- This Vitamin D3 is GREAT for kids. Just a spray a day is all it takes.
The Vitamin D Solution: A 3-Step Strategy to Cure Our Most Common Health Problem- Take a look at this EYE OPENING book. This fascinating account of the health benefits of Vitamin D will keep you turning pages far into the night!
See already answered Questions about Vitamin D Deficiency Treatment
Click below to see answered questions from other visitors to this page...

Still Have a Question
About Vitamin D
Ask it Here
Back to Top of Vitamin D Deficiency Treatment 

Back to Easy Immune Health Home