Anxiety from Vitamin D?
Find Out the Solution Here
Are you having problems with getting Anxiety from Vitamin D? This also includes feelings of hyperactivity, mania, jitteriness and insomnia as well as anxiety? Well you've come to the right place to get a SOLUTION to this unnerving problem. The first thing that you need to know about getting anxiety after taking vitamin d is that is is NOT an overdose. Even if you've taken 'a lot' of vitamin d, please read the page on Overdose on Vitamin D to see why even taking 600,000 IU's of vitamin d all at once in one single dose is NOT going to make you overdose. 

When you are having anxiety from vitamin d, what this IS a problem of, is of extremely common and completely preventable Vitamin D Side Effects. Did I say preventable? Yes. And reversible. You are not doomed to suffer these side effects every time you take vitamin d. In fact, these symptoms are a 'good' thing because they can help you to solve some underlying health problems that you were almost certainly suffering from before you got anxiety from Vitamin D. Please also see the 'Big Thread' on the Vitamin D and Anxiety Attack question page.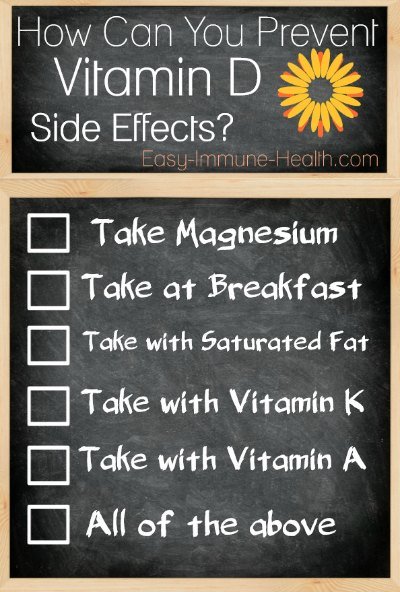 In fact, having a negative reaction to vitamin d is almost a sure sign that you have some subtle (or most often not so subtle, you just didn't recognize it) nutritional deficiencies. Specifically and most commonly, it's a sure Sign of Magnesium deficiency. You see, vitamin D requires magnesium to work, and if you have a magnesium deficiency when you take vitamin D, it will make that nutritional deficiency worse!  Please see the page on Magnesium and Vitamin D to understand this very real and very common problem of experiencing magnesium deficiency after taking vitamin D. 

Other nutritional deficiencies that are a problem when one experiences vitamin d side effects are those of the fat soluble vitamins Vitamin A and Vitamin K, specifically Vitamin K2. In fact, there is a scientist proposing the hypothesis that Vitamin D Toxicity is a Deficiency of Vitamin K, and there are many many reports of people experiencing anxiety and some of the other vitamin D side effects such as:
that are relieved from taking the cofactors provided in the Vitamin D Absorption Pack, such as magnesium, Vitamin A, and Vitamin K that have all been linked to being required for proper Vitamin D absorption and conversion into it's active form. 
So, now that you know WHY you are experiencing Anxiety from Vitamin D you now have the opportunity to actually do something about it. For most people, just getting 'filled up' with magnesium will solve this problem completely and often it helps them to resolve MANY of the other health problems that they were experiencing that they just simply did not realize were Signs of Magnesium Deficiency. But if you want to have the least change of having problems from taking vitamin d, the 'best' choice is to get the full Vitamin D Absorption Pack, which gives you all of the nutrients necessary to 'cover your bases' to absorb vitamin d and minimize side effects. But, in order to figure out if you can take magnesium and how much, please read the page on Magnesium Dosage and follow the instructions. 

Next --->
Magnesium Dosage --->
Already Answered Questions about Vitamin D Side Effects
Click below to see already answered questions about Vitamin D Side Effects.
Back to Top of Anxiety from Vitamin D