Vitamin D and my liver
by D
(West Virginia)
I have had two blood tests in the last month and I have liver abnormalities. After the first test the doctor asked me if I drink excessively - I have never had a drink in my life (really - and I'm 52 years old) then he asked me what kind of chemicals I work around.


I am an Administrative Assistant in a College Chapel Office (full time), and I am Youth Leader at my church (20 hours a week. Then he asked me about my milk intake.
I told him I don't drink milk. He then asked me how I was feeling. I told him that I had a terrible headache all the time and I feel incredibly tired, and that I go to work and then come home and go to bed, and then wake up just as exhausted.
So he had me do more blood work with Vitamin D as one of the tests. He then called me on Saturday to tell me that my Vitamin D level is 8. I didn't know what that meant, but he said that it was unbelievable that I was still walking around and even functioning.
I told him I had a new symptom - I just want to cry all the time now. He then told me that he wanted me to make an appointment when his office was open to prescribe special vitamins and to discuss my continued liver abnormalities - he mentioned hepatitis.
I read on the internet that liver problems could keep you from processing Vitamin D correctly.
Can you tell me what to ask my doctor?
I have an appointment tomorrow.
Click here to read or post comments
Return to Question About Vitamin D Side Effects?.
Does High Dose Vit D harm the liver or kidneys?
by Priya Nath Mehta
(Mussoorie, Himalayas, India)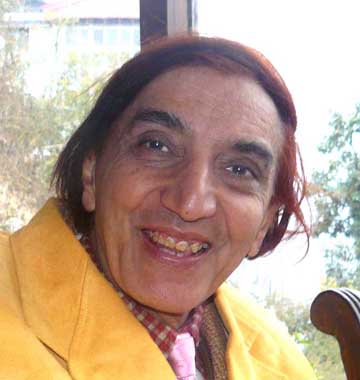 Priya Nath Mehta ( Nathji) at Mussoorie, India
I am taking 60,000 IU of vitamin D every two weeks. Prior to that I had been taking 60,000 IU every week for three months and it had brought my Vit D blood level to 103ng.

The question frequently worries me -- does Vit D harm the liver by accumulating there? -- even when it is released slowly after being stored there?

I believe that there are some who say that Vit D actually helps the liver.

--------------------------------

Similarly there are some who say it harms the kidneys while others say that it helps the kidneys and is actually used in Chronic Renal Failure.

In the absence of testing facitilies, where I live in the Himalayan mountains -- are there any empericals signs that tell you that the liver and kidneys are OK?

My ideas:

1. If my appetite is good then my liver must be OK-- since with liver trouble I would get nausea and indigestion all the time.

2. If my weight remains constant for months then I know I must not have any kidney failure,-- since in kidney failure there would be weight gain from water accumulation.

Since I dont have any of the above signs my liver and kidneys must be OK despite the high doses of Vid D for over four months now.
---------------------------------

Am I on the right track?

Yours,
Priya

Click here to read or post comments
Return to Question About Vitamin D Side Effects?.
I'm Afraid that Vitamin D Will Hurt My Liver
by Linda
(Florida)
Recently I had my vitamin level checked. The doctor said normal is 50 and mine was 15. He has prescribed 50,000 units 3x's a week for ten weeks. I am worried about taking so much, afraid that it will adversely affect my liver. Are my concerns valid?


---------------

ANSWER:

Hi Linda,

I have no idea where you got the information that taking Vitamin D at doses of 7000 IU's per day (which is about 50,000 IU's per week) will hurt your liver- there is just simply no research that says that at all.

When you read my Vitamin D Deficiency Treatment page, you'll see that your doctor is giving you exactly the dosage that his supposed to be giving you.

And when you read the Vitamin D Overdose page, you'll see that it is MUCH harder than you might think in order to overdose.

And in fact, NOT taking Vitamin D and getting your Vitamin D Level up to researcher recommended 'normals' is probably MORE dangerous than any risk of overdose could be.

When you read the Symptoms of Vitamin D Deficiency page, you'll see that by having a Vitamin D Level so low, you are putting yourself at risk for 'long latency' diseases such as:

Breast Cancer

Heart Failure

Chronic Pain

and so many other problems by NOT getting and KEEPING your vitamin d levels up.


The only improvement that I would make is that your doctor wants you to take Immune System Health

The only improvement that I can recommend is that your doctor gave you a prescription for Vitamin d. Please read the page on why Prescription Vitamin D is absolutely NOT a recommended form of vitamin d by researchers who state that Vitamin D3 Supplements are the only supplements that should be taken. Hope that this helped.






Kerri Knox, RN- The Immune System Queen
Functional Medicine Practitioner
Immune System

Return to Question About Vitamin D Side Effects?.
Vitamin D and Liver Function
by Debi
Is there any link between Vitamin D deficiency and High Liver Function?

Click here to read or post comments