Heart Failure and Vitamin D? 
Could You Just Need a Vitamin?
Congestive Heart Failure and Vitamin D Deficiency, the connection is stronger than you might think. Even though there are MANY studies showing the connection, Vitamin D Deficiency is ALMOST ALWAYS overlooked as one of the causes of congestive heart failure- yet is should ALMOST ALWAYS be considered as a PRIMARY cause of this disabling chronic illness. From tiny babies who are diagnosed with Pediatric Congenital Heart Failure soon after birth- to the elderly who have a higher and higher chance of having a weak heart as they get older, Vitamin D and Congestive Heart Failure have a strong link that should not be overlooked- but most often is.
"We concluded that among patients 50 years
of age or older, even a moderate deficiency
of Vitamin D levels was associated with
developing coronary artery disease,
heart failure, stroke, and death,"
Heidi May, PhD, MS
Epidemiologist at Intermountain Medical Center in Utah

What is Congestive Heart Failure
Congestive Heart Failure, also called Heart Failure, Congestive Cardiac Failure and CHF -are fairly common conditions where the heart becomes enlarged, weakened and unable to pump blood well.
While cardiomyopathy is not exactly the same thing, the causes of congestive heart failure and cardiomyopathy are often the same, as are the results, so I am lumping these two problems together.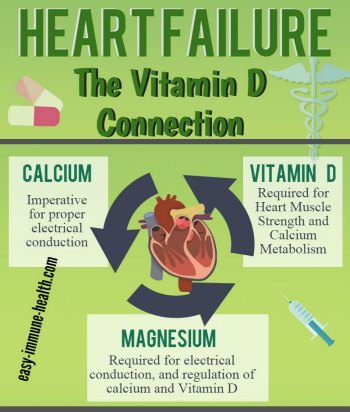 What is important to know about CHF is that:
The heart muscle becomes weak and often enlarged
This leads to impaired pumping
Which leads to a build-up of fluid in the body
If the condition worsens, this fluid can collect in the lungs and cause difficulty breathing, even to the point of needing hospitalization and life support.
Most causes of congestive heart failure are from either infections or from heart attacks, but often times there is no known cause and the problem is labeled 'idiopathic'- a medical term meaning that the cause is unknown. But idiopathic can also simply mean that doctors have simply not looked in the right place. And in many of these cases would likely be labeled Nutritional Causes of Congestive Heart Failure if doctors were actually LOOKING for them, sadly they don't. But when cases congestive heart failure and vitamin d deficiency HAVE been recognized, administration of Vitamin D and Calcium has induced a quick and many times complete recovery!
"The low vitamin D status can explain
alterations in mineral metabolism as well 
as myocardial dysfunction in the CHF patients, 
and it may therefore be a contributing 
factor in the pathogenesis of CHF."
'Clinical study: heart failure and 
vitamin D Deficiency: a contributing factor
in the pathogenesis of congestive heart failure?
On the surface it seems hard to believe that congestive heart failure and vitamin d deficiency could be SO linked that people could miraculously get better when all other treatments have failed. But when you understand Congestive Heart Failure Nutrition and two of vitamin D's functions, then it is not so hard to believe.
The Problem of Heart Failure and 
Vitamin D. Can This Be True? 
Vitamin D and Muscular Strength
One of Vitamin D's lesser known actions- improving muscular strength- is one reason why Congestive Heart Failure and Vitamin D Deficiency occur together, as well as the profound Vitamin D Fatigue that occurs in almost everyone with CHF. For reasons that are not well understood, vitamin D deficiency causes muscles to be weak, and improving vitamin D status improves muscular strength. This effect is particularly noteworthy in the elderly, but even young girls with vitamin D deficiency have weaker muscular strength than their vitamin D sufficient peers. This muscle strengthening effect may also be may also be contributing to the stronger HEART muscles of those treated with Vitamin D too!
It's the Calcium! 
Vitamin D is also VITAL for the absorption of calcium. If you don't have vitamin D then you will simply NOT absorb calcium, and calcium is imperative to allow the heart muscle cells to contract properly. Calcium is so important that our bodies carefully maintain blood calcium levels, but in a quirk of nature, our bodies will pull calcium from the bones and cells in order to maintain a normal Blood Calcium Level.

Unfortunately doctors will ONLY check for Vitamin D deficiency if blood calcium levels are too low. But vitamin D deficiency can be severe and lead to altered calcium metabolism in Heart Cells long before calcium levels in the Blood become abnormal.

"Vitamin D deficiency and consequent hypocalcaemia
are seen in association with severe and 
life-threatening infant heart failure"
'Hypocalcaemia and vitamin D deficiency: an important,
but preventable, cause of life-threatening
infant heart failure'

But until vitamin D levels become so low that calcium blood levels become abnormal, doctors feel that checking for vitamin D deficiency is 'not indicated' - even though extensive research continually points to the fact that moderate to severe vitamin D deficiency can existWITHOUT changes in calcium.
With over 85% of the population vitamin d deficient the connection between Congestive Heart Failure and Vitamin D Deficiency should be apparent to physicians who are supposed to be trained to help people. There are SO MANY studies showing a strong connection between Congestive Heart Failure and Vitamin D Deficiency that if doctors were taught to look at CHF as a Symptom of Vitamin D Deficiency until proven otherwise, the outcomes of many people would be VERY DIFFERENT.
Just like in cases of Heart Failure and Carnitine Deficiency doctors label these sick people with the meaningless attribution of 'idiopathic'- when effective treatment with Calcium and Vitamin D Supplements as well as an intensive Congestive Heart Failure Nutrition program of other supplements could swiftly correct this devastating chronic illness in many people who are suffering unnecessarily.
See what other Nutritional Causes of Congestive Heart Failure doctors are missing...
Next ---->
More Nutritional Causes of CHF --->

Resources for Heart Failure and Vitamin D

See Already Answered Questions about Heart Failure Here...
Click below to see already answered questions about heart failure here....
Search this Site
Ask Your Question. It will be posted publicly. READ THE TIPS BEFORE POSTING
Tip #1: SEARCH THE SITE FIRST! USE THE SEARCH BOX IN THE TOP RIGHT OF EVERY PAGE. 99% of all questions have been answered already. I will just delete your question if it's been answered already.

Tip #2: INCLUDE YOUR EMAIL ADDRESS on the Confirmation Page. There is no other way for you to get the answer to your question!

Tip #3: Include details so that I can help you more effectively.. and don't forget to include an email address on the confirmation page

Tip #4: Include a DESCRIPTIVE TITLE that tells about your problem. Saying 'Help Me' or something similarly nondescriptive does not help me to know what the problem is. A title such as "My _______ Level is Not Coming Up" is much more helpful.

Tip #5: If you are on a mobile device, please recheck your spelling and grammar.

Tip #6: Use decent grammar and complete sentences. Most of you are adults who went through over a decade of some sort of compulsory education. Please at least make your questions understandable. If you are not a native English speaker, just do your best.

Tip #7: SEARCH THE SITE FIRST! USE THE SEARCH BOX IN THE TOP RIGHT OF EVERY PAGE. 99% of all questions have been answered already.

Research for This Page
Case Studies of Congestive Heart Failure
and Vitamin D Treatment
Back to Top of Congestive Heart Failure and Vitamin D 

To Easy Immune Health Home Page