Vitamin B12 Shot Problems
Aren't What You Think
There ARE a few Vitamin B12 Shot Problems and b12 shot side effects that you should know about:
Pain at the shot site
Allergic reactions
Possible infections
Cost of the injections
Wrong Kind of B12
But ALL of these vitamin B12 shot problems can be avoided by NOT GETTING VITAMIN B 12 SHOTS IN THE FIRST PLACE! That's right, WHY would you go to the trouble of getting vitamin b 12 shots when taking Sublingual Vitamin B12 will give you the same results? If you are reading this, it's likely that you have been told that you have B12 Malabsorption and that you must have vitamin b12 shots, but this is a MYTH, and I'll explain how it came about in a few minutes.
The truth is that there have been dozens of studies showing the effectiveness of taking sublingual b12 vitamins when the two have been compared directly.
It's really true. There is absolutely no reason why you should get vitamin B 12 shots when there are all sorts of potential vitamin b12 shot problems that could happen – not to mention the fact that I'm sure that you would go out of your way under any other circumstance to not get a shot of any kind! So, why are you looking for vitamin B 12 shots when you absolutely don't need them?
The Myth About Vitamin B12 Shots
One of the biggest vitamin B12 shot problems- is the MYTH that anyone needs them. So, let's look at what the research says:
This first quote was reported in the medical journal "Blood" and is entitled, Effective Treatment of Cobalamin Deficiency With Oral Cobalamin. The authors conclude,

"In cobalamin deficiency, 2 mg [2000 micrograms]
of cyanocobalamin [vitamin b12] administered
orally on a daily basis was as effective as
1 mg [1000 micrograms] administered intramuscularly
on a monthly basis and may be superior."
This next quote was reported in the journal Acta Medica Scandanivica from an article entitled Vitamin B12 body stores during oral and parenteral treatment of pernicious anaemia. They conclude,
"Oral treatment of pernicious anaemia patients with 1 mg cyanocobalamin daily has been shown before to be as effective as conventional injection therapy.
This Study NOT ONLY showed the effectiveness of sublingual b12 vitamins, but studied patients PERCEPTIONS of the need for vitamin B 12 shots. The authors concluded,
"Many patients are told that they need to be 
on lifelong shots, so there is a perceived need
to be on shots and many are simply unwilling
to switch due to perceived need."

These are only a few examples of the studies that have been done on the Treatment of Vitamin B12 Deficiency with Vitamin B 12 shots versus sublingual b12 vitamins. And the consensus is that the biggest vitamin b12 shot problems are that they are still being given when they not only are uncomfortable, increase the risk of infections and allergic reactions, but also activate the immune system and cause stress. 
Stress and Immune Issues are
Vitamin B12 Shot Problems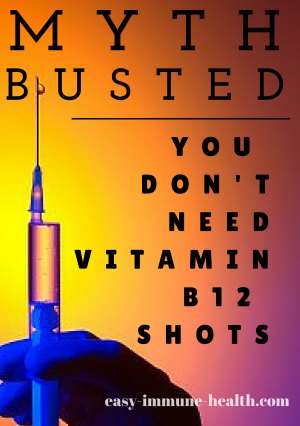 For most people, even the thought of getting a shot is upsetting and produces stress. Studies have shown that simply getting blood drawn activates the adrenal glands enough that blood testing for Adrenal Gland Fatigue is worthless in all but the most severe cases.
This extra stress causes the immune system to be compromised at the moment that you need it the most- when some foreign substances are being injected right into your body. When you take a vitamin B12 shot, you are also injecting stabilizers and preservatives right into your body such as:
Cobalt
Benzyl Alcohol
Hydrochloric Acid
And while the solution is supposed to be completely sterile, there is always the risk that the solution was not completely sterile during processing, or that when you inject into your body that bacteria from your skin are injected into your body along with the solution!
But even if everything is perfect and you do not react to anything or get an infection, your immune system is still unhappy due to the extra stress and because simply injecting a foreign substance into the body makes your immune system go on alert.
Do you REALLY want the added stress and immune system activation when its likely that you already have some ongoing chronic health problems that you are battling?
Why People Think They Need Shots
So, why then are so many people talking about vitamin B 12 shots and their benefits. Well, people who have Vitamin B12 Deficiency Symptoms will absolutely feel better if they get vitamin B12. And there are many people that really need vitamin B12, and even people who have normal vitamin b12 levels tend to feel better if they get extra vitamin B12.

But one of the vitamin B12 shot problems is that you get a big "JOLT" of vitamin B12 into your bloodstream all at once- so of course you are going to feel better. But over a period of a couple of weeks, that vitamin B12 will slowly wear off and you will begin to feel more and more tired. So you get more vitamin B12 shots- and you feel great again. So, each time that you get a shot, you feel good and you really notice the difference right away. Then it wears off… etc.
Sublingual B12 vitamins taken EVERY DAY, however, will give you a MORE CONSISTENT sustained energy without the highs and lows that occur with the vitamin B12 shots that make you feel so good that you think that you need them!
B12 Shots are the Wrong Kind of B12
The other vitamin B12 shot problems are that the VAST MAJORITY of vitamin B 12 shots are in the form of CYANOCOBALAMIN. Cyanocobalamin is a form of Vitamin B12 that has been removed from the market in some other countries- including the United Kingdom and Japan. 
A form of Vitamin B12 called Methylcobalamin B12 is far superior to Cyanocobalamin and is the only Prescription form on Vitamin B12 that is used in Japan! Cyanocobalamin is sold as Vitamin B12 shots on the internet because it is CHEAP, not because it is the better formulation! 
In fact, several researchers, led by Dr. AG Freeman, have been attempting to get Cyanocobalamin removed from the market repeatedly since 1970!
The study, "B12 (Cobalamin)" states,
"Clinical trials have repeatedly shown
superior results using methylcobalamin"
Additionally, an estimated 33% of the population has the MTHFR Gene mutation, and these people can become toxic when taking cyanocobalamin. So, aside from the discomfort, the visit to the doctor for a prescription,vitamin b12 shot problems can include allergic reactions, immune system activation, extra stress and even infections. Is it really worth it?

Why don't you spend your money on high quality Sublingual B12 Vitamins with the active form of Methylcobalamin that will give you the extra benefits of nervous system protection and help with detoxification- while avoiding all those potential Vitamin B12 Shot Problems!
Need help figuring out how MUCH vitamin B12 you should take by mouth now that you are not getting Vitamin B12 shots? Keep reading!
Next --->
Vitamin B12 Deficiency Treatment 
Vitamin B12 Resources
Already Answered Questions about Vitamin B12
Click below to see already answered questions about Vitamin B12?
Ask Your Question. It will be posted publicly. READ THE TIPS BEFORE POSTING
Tip #1: SEARCH THE SITE FIRST! USE THE SEARCH BOX IN THE TOP RIGHT OF EVERY PAGE. 99% of all questions have been answered already. I will just delete your question if it's been answered already.

Tip #2: INCLUDE YOUR EMAIL ADDRESS on the Confirmation Page. There is no other way for you to get the answer to your question!

Tip #3: Include details so that I can help you more effectively.. and don't forget to include an email address on the confirmation page

Tip #4: Include a DESCRIPTIVE TITLE that tells about your problem. Saying 'Help Me' or something similarly nondescriptive does not help me to know what the problem is. A title such as "My _______ Level is Not Coming Up" is much more helpful.

Tip #5: If you are on a mobile device, please recheck your spelling and grammar.

Tip #6: Use decent grammar and complete sentences. Most of you are adults who went through over a decade of some sort of compulsory education. Please at least make your questions understandable. If you are not a native English speaker, just do your best.

Tip #7: SEARCH THE SITE FIRST! USE THE SEARCH BOX IN THE TOP RIGHT OF EVERY PAGE. 99% of all questions have been answered already.
Put Your Headline Here. Did You First Search for Your Answer? Use the Search Box in the Upper Right Hand Corner of Every Page
You must put your Email Address ON THE CONFIRMATION PAGE AFTER YOU ENTER YOUR QUESTION. There is no other way for you to get your answer. DID YOU FIRST SEARCH FOR YOUR ANSWER ON THE SITE? 99% OF ALL QUESTIONS PEOPLE HAVE HAVE BEEN ANSWERED ALREADY.
My B12 is still low after months of weekly injections

I have had weekly injections of B12 since summer and continue to have severe B12 symptoms. I get my level checked monthly and the last one was 350. My …
Back to Top of Vitamin B12 Shot Problems 

Back to Easy Immune Health Home Page