Your Magnesium Level is
Virtually Worthless Information
What does your Magnesium Level tell you about the status of magnesium deficiency? Virtually nothing! Unless you are in critical condition in the hospital or are having chest pains or palpitations, Serum Magnesium Levels, like the kind that are routinely done in the hospital, are going to miss a HUGE percentage of people with very real and very problematic magnesium deficiencies. The normal range of Magnesium Blood Tests on Laboratory evaluations is from approximately 1.5 to 2.5 mEq/liter - although this will vary slightly depending upon each individual laboratory- but having a 'normal' level simply is worthless information if you are having problems.
While a level that is above a level of 5 mEq/liter, and sometimes even a bit lower, IS significant for a Magnesium Overdose- don't rely on this measure if you are Within the Normal Limits as the odds are you still have a magnesium deficiency that is causing you to have long term, chronic and severe symptoms!! Instead, relying on the actual Signs of Magnesium Deficiency is a MUCH more reliable way to determine the amount of magnesium in the body.
Magnesium is one of the most abundant electrolytes in the body. It is critical in regulating several hundred functions in the body, including:
All electrical activity in the body
Smooth muscle contraction
Skeletal muscle contraction
Every single heart beat
All brain activity
Over 300 various enzymatic reactions
Regulation of a Normal Potassium Level
All of these reactions require the magnesium in the body to be replaced on a virtually continual basis, day in and day out. Hospitals and doctors' offices often check magnesium blood levels when a patient has certain medical conditions such as heart or kidney problems. When your test for magnesium comes back normal, doctors are assured that you have plenty of magnesium, and they are satisfied that they have done their job- but they obviously aren't Understanding Blood Test Results.
The problem with this is that magnesium is not IN your blood. In fact, 99% of the magnesium in the body is in the cells; while only a mere 1% of your the body's total magnesium is in the blood, making a blood test for magnesium nearly worthless in all but the WORST magnesium deficiency. In addition, there are various factors that affect Magnesium Absorption, so that even if you think that you are getting 'plenty' of magnesium, you may not be able to absorb it or use it properly.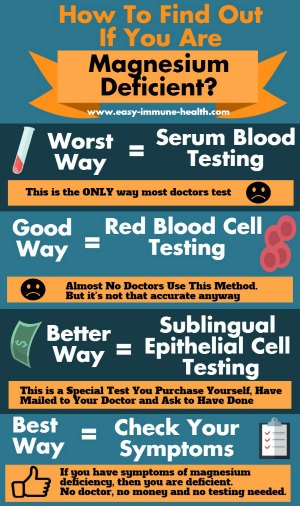 But even if your serum magnesium comes back normal, as it probably will, many doctors and researchers believe that magnesium deficiency is epidemic! Researchers believe that many common medical problems from migraines to Heart Palpitations are actually just signs of magnesium deficiency that serum magnesium levels are unable to detect. Even the common problem of Toxemia of Pregnancy is usually a problem of not enough Magnesium in Pregnancy.
Many studies show improvement in conditions ranging from irregular heart rhythms to certain types of high blood pressure to alcoholic condition, when a deficiency is 'presumed' and magnesium is administered.
"A serum test for magnesium is actually worse
than ineffective, because a test result that
is within normal limits lends a false sense 
of security about the status of the mineral
in the body. It also explains why doctors 
don't recognize magnesium deficiency; they 
assume serum magnesium levels are an accurate
measure of all the magnesium in the body."
Dr. Carolyn Dean from 'The Magnesium Miracle'

Fun Magnesium Fact
You Don't Need Pills or Food to
Get Plenty of Magnesium
Just Rub Transdermal Magnesium Gel Right Into Your Skin
For a Quick Magnesium Supplement
It Really Works!
Doctors who are actually interested in the magnesium levels of their patients, and there are not many who understand the seriousness of magnesium deficiency, find this lack of a good test for magnesium levels frustrating. In the article 'Noninvasive Measurement of Tissue Magnesium and Correlation With Cardiac Levels' they echo this frustration,"The role of magnesium in the clinical setting, however, is hampered by the lack of an assay of intracellular tissue magnesium levels."


A Better Magnesium Level Test
Red Blood Cell Magnesium Levels, also called 'RBC Magnesium' tests, are an improved way to get your magnesium level checked, but unfortunately it is still not extremely accurate and has it's limitations.
RBC magnesium tests the level of magnesium inside of the Red Blood Cells inside your bloodstream. Unfortunately, this level does not correlate very well with the levels inside your TISSUES where you really want to know about your magnesium status. So, you COULD order an expensive RBC Magnesium Blood Test from that link and get one done even without your doctor's help, but it's not necessarily going to give you any better information than a serum magnesium level.

An Even Better Magnesium Test
Intracellular Magnesium Levels are being shown to be the onlyclinically significant measure of magnesium deficiency. So, some smart researchers decided to come up with a way to measure the magnesium levels inside the cells. Hence the invention of a'Sublingual epithelial cell' magnesium test!! This test takes a sample of the cells from underneath your tongue and checks the magnesium level of the cells.
This neat test is painless, accurate and is INFINITELY more accurate than a blood test for magnesium when determining clinically significant amounts of magnesium in the body.
This sublingual epithelial cell test for magnesium is not some test in the experimental stages that we can someday hope to be able to use after years and years of studies and after waiting and hoping for FDA approval. This simple test that measures the only truly important magnesium levels, intracellular levels, painlessly and accurately with only a scrape of a tongue depressor under the tongue, the Sublingual Epithelial Cell Magnesium Test has been well studied and it is available to health care providers for use in their offices and in hospitals right now via Exatest. However, I STILL don't recommend this expensive and not readily available test because YOU DON'T NEED A TEST!!
The Best Magnesium Deficiency Test
You don't need a test, and testing is really not very good because magnesium needs and levels change minute by minute and hour by hour. A normal level of magnesium in the doctor's office could be significantly lower after a stressful drive home in terrible traffic or an emotional phone call with your mother. In addition, even if you get plenty of magnesium, your Magnesium Absorption can be affected by different factors that may change your magnesium levels even if your needs and your intake stay the same!
Magnesium levels change too quickly and there are too many variables as to how much magnesium is needed day to day for levels to be relied upon. In reality, getting a sublingual epithelial magnesium level every time that you feel poorly would really be the only accurate and effective way to use magnesium testing, but this would obviously be prohibitively expensive and inconvenient. But again, you don't need even ONE SINGLE test!!
Stop wasting money and medical resources getting tested when you only need to listen to your body to know whether you need magnesium or not!! Listening to your body for signs of magnesium deficiency is a FAR FAR more accurate way to know whether you need magnesium or not.

"Only about 0.3% of the total body magnesium
is present in serum, yet the majority of analytical data
obtained is from this body fluid."
Assessment of Magnesium Status

Even worse, since the outdated methods only test the less than 1% of magnesium in the body, doctors have no idea how widespread magnesium deficiency is and remain ignorant of the easy to spot Signs of Magnesium Deficiency. Yet this is the BEST way to determine your need for magnesium and is FAR more accurate and useful on a day to day basis to supply your magnesium needs.

Following the instructions on the Magnesium Dosage page will be far more likely to alleviate magnesium deficiency than expensive, unavailable, and inaccurate testing could ever do. Magnesium Supplementation is generally VERY safe and may alleviate some SURPRISING symptoms that you never thought could be associated with a magnesium deficiency.
Keep reading to find out what's the RIGHT magnesium dosage for YOU...
Magnesium Resources
Research Studies for This Page
See what Others have Submitted about Magnesium
Click below to see contributions from other visitors to this page...

Search this Site
Ask Your Question. It will be posted publicly. READ THE TIPS BEFORE POSTING
Tip #1: SEARCH THE SITE FIRST! USE THE SEARCH BOX IN THE TOP RIGHT OF EVERY PAGE. 99% of all questions have been answered already. I will just delete your question if it's been answered already.

Tip #2: INCLUDE YOUR EMAIL ADDRESS on the Confirmation Page. There is no other way for you to get the answer to your question!

Tip #3: Include details so that I can help you more effectively.. and don't forget to include an email address on the confirmation page

Tip #4: Include a DESCRIPTIVE TITLE that tells about your problem. Saying 'Help Me' or something similarly nondescriptive does not help me to know what the problem is. A title such as "My _______ Level is Not Coming Up" is much more helpful.

Tip #5: If you are on a mobile device, please recheck your spelling and grammar.

Tip #6: Use decent grammar and complete sentences. Most of you are adults who went through over a decade of some sort of compulsory education. Please at least make your questions understandable. If you are not a native English speaker, just do your best.

Tip #7: SEARCH THE SITE FIRST! USE THE SEARCH BOX IN THE TOP RIGHT OF EVERY PAGE. 99% of all questions have been answered already.
Back to Top of Magnesium Level 

Go to Easy Immune Health Home Page