Magnesium In Pregnancy
How Important is it?
Is it safe to take Magnesium in Pregnancy? The answer is not an easy yes or no question. But here are the facts and you can decide what is right for you to do. Taking a look at the Magnesium Dosage page, you'll see that the RDA of magnesium for women is approximately 300 mg per day. 
But the need for magnesium in pregnancy increases due to:
The additional stress on YOU
The magnesium needs of the forming baby  and
The extra buildup of magnesium in the uterine tissue itself
Unfortunately, most people do not even meet their basic needs, let alone the needs of going through pregnancy. At least one study (1) shows that the majority of pregnant women only get about a third of this MINIMUM need in food- this does not even include the additional need for magnesium due to the pregnancy and does not take into account your individual need for magnesium. In addition, most of the western world is at least mildly magnesium deficient, with entire swaths of the population actually experiencing subtle Signs of Magnesium Deficiency on a day-to-day basis without even being aware of it!
Throw in a pregnancy with the typical western diet that is devoid of magnesium in the first place and you have a recipe for disaster- which shows up as symptoms of magnesium deficiency in pregnancy. But are you aware that these common problems during pregnancy are actually symptoms of magnesium deficiency in many cases?
Symptoms During Pregnancy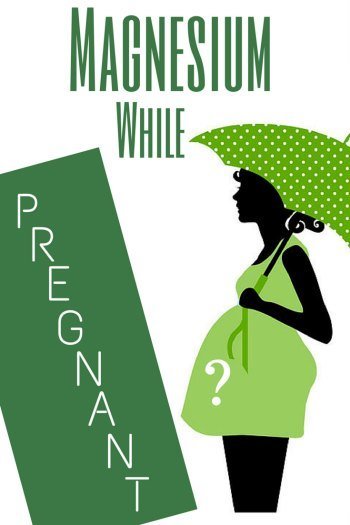 The most obvious and severe symptom of deficiency of magnesium in pregnancy is the HUGE problem of preeclampsia or eclampsia- also known as 'Toxemia of Pregnancy'. About 7% of pregnant women end up diagnosed with eclampsia or preeclampsia. The symptoms of swelling in the legs, fatigue and sometimes dangerously high blood pressure can range from a mild annoyance to a deadly problem that forces you to have an emergency induced labor, a ruptured placenta or even a stroke!
This is NOT a small problem.
While women with the early form of this problem just 'get watched' by the medical profession, the women whose symptoms are severe enough to go to the hospital will immediately get an infusion of magnesium to bring the blood pressure down and relax the uterus. Because this treatment is so effective and so safe, it makes one wonder why doctors don't treat this problem with sufficient magnesium when it's first recognized.
Well, others have wondered this too. Dr. Johnathan Wright says,
"Pyridoxine and magnesium therapy in toxemia… reduce the
elevated blood pressure and edema
before the problem becomes critical. Of course, 
started early enough, prevention of the problem 
is accomplished, and treatment of the actual 
condition isn't necessary. So…. Why is there more 
than a miniscule incidence of eclampsia and preeclampsia?"
From Dr. Wright's Book of Nutritional Therapy:
Real-Life Lessons in Medicine Without Drugs
deficiency- and a LATE sign. Earlier signs of the problem start with the EXTREMELY common pregnancy problems of:

Back Pain
Constipation
Irritability
Muscle Tightness
Insomnia
Magnesium is like a natural relaxant, and so deficiencies can cause muscular and neurologic irritability; being sufficient can help everything to relax. While not ALL of these problems are due to magnesium deficiency, many of them are and could have been prevented with adequate magnesium intake during pregnancy. But how much should you get?
Not Getting Enough
Magnesium in Pregnancy
As we said before, the RDA of magnesium is 300 mg per day for women. But most women only get about 100 mg per day and most prenatal multivitamins only have about 100 mg in them. This leaving a shortfall of AT LEAST 100 mg per day in most women.
This adds up to a deficit of about 3000 mg every month during pregnancy! That's 27,000 milligrams that most women are short by the time they deliver even if they are only 100 mg short per DAY!
But most women are going to need MORE THAN 300 mg of magnesium in pregnancy due to their higher needs. If you imagine that many women have a 200 mg per day deficit, that is over 50,000 milligrams in deficit over your pregnancy- some women who have had lower intakes of magnesium during the first trimester due to morning sickness or excessive vomiting may be in an even WORSE deficit than that!
It's no WONDER that toxemia is such a big problem.
Getting Magnesium from Food
So, should you take more than what's in your multivitamin? That's a good question. Ideally, your first choice will be to increase the amount of foods that have magnesium in them in the first place. Vegetables, nuts, seeds and whole grains all have magnesium and if you are not eating many of these- then you SHOULD start.
Whether they have magnesium or not, these foods should be the MAINSTAY of your diet. If you are eating ANY processed foods whatsoever, you are shortchanging your nutrition and you should read the SEMINAL work of Dr. Weston Price entitled Nutrition and Physical Degeneration. It should be REQUIRED reading for all women who are pregnant or thinking about becoming pregnant. It is an INVALUABLEstudy on the risks to your baby of eating processed foods- information that you will hear from no one else!
But back to magnesium.
So, getting magnesium in your food is of PRIMARY importance. But if you are already eating plenty of magnesium rich foods and you are still having magnesium deficiency symptoms, should you take supplements as well?
Magnesium's Effects on the Baby
The studies on magnesium in pregnancy either show no benefit or a positive benefit from taking magnesium. I have seen NONE that show harm from a mother taking extra magnesium during pregnancy.And here are some of the benefits to the baby that magnesium has shown in studies
"…magnesium supplement has a beneficial effect on fetal growth
"…oral magnesium supplementation in pregnancy is safe and that it has a positive effect on the fetal circulation."
"The Significant improvement in fetal outcome with dietary magnesium supports the concept of magnesium supplementation during pregnancy." 
Even improved sleep and wake cycles in newborns are related to whether the mother passed along sufficient magnesium in pregnancy!
Other studies have shown that giving magnesium in pregnancy, just like Vitamin D in Pregnancy, leads to higher birth weights, a decrease in the incidence of premature birth and cerebral palsy - and, when magnesium is given to babies who have undergone traumatic births, they have fewer neurologic problems as well!!
So, there seem to be quite a number of positive reasons to be magnesium sufficient during pregnancy, but are supplements safe?
Is Supplementing Magnesium in Pregnancy Safe?
Magnesium supplementation, even intravenously, have been used safely in hospitals for decades to treat toxemia and pre-term labor. And except in the EXTREMELY RARE case of hospital negligence leading to a Magnesium Overdose, tens of thousands of hospitals use it regularly with virtually ZERO reports of harm to the mother or the baby.
Dosages of supplementation for studies ranged from the standard 100 mg of magnesium per day to one (3) that gave 360 mg per day. Unfortunately, few studies gave higher dosages than this and the vast majority were done only in the second and third trimesters. So, if you have higher magnesium needs and lower dosages are not enough to relieve your Symptoms of Magnesium Deficiency, should you take higher dosages and/or take magnesium supplementation in the first trimester or if trying to get pregnant?
There are no DEFINITE answers to this question. But Dr. Carolyn Dean, in her book The Magnesium Miracle reminds us that women were given Epsom Salt Baths (which are magnesium) to relieve pregnancy symptoms for generations and says,
"Always check with your obstetrician… 
before adding any supplement, but know 
that magnesium has a long history of safety
for both mother and child."
"The Magnesium Miracle"
While these answers might not tell you exactly how much Magnesium in Pregnancy you can take or whether you can take more than 360 mg per day in the first trimester, this SHOULD give the vast majority of you a good guideline about the safety of magnesium and the MAJOR benefits that it could have for you AND for your baby while you are pregnant.
And since you are concerned about getting enough magnesium in pregnancy, have you thought about your need for Vitamin B12 in Pregnancy, or your  Vitamin D in Pregnancy? Most women believe that they get enough of these vitamins, particularly vitamin D, in their prenatal vitamins so they don't have to worry about their vitamin d intake. But are you so sure? Keep reading to find out why you probably need AT LEAST 10 Times more than the amount that is in your multivitamin...
Next --->
Vitamin D Requirements
Magnesium Resources
Transdermal Magnesium Gel- Simply rub this lotion like substance right into your skin and get a quick 'Magnesium Supplement' without taking pills. The magnesium absorbs right through your skin and into your bloodstream. It really works!
Transdermal Magnesium -The Book - Learn the science and methods behind how and why Transdermal Magnesium works
Jigsaw Health's Extended Release Magnesium Malate - Jigsaw's extended release magnesium is like no other. Take fewer pills with longer lasting relief. This is a great choice to get your magnesium... 
Search this Site
Ask Your Question. It will be posted publicly. READ THE TIPS BEFORE POSTING
Tip #1: SEARCH THE SITE FIRST! USE THE SEARCH BOX IN THE TOP RIGHT OF EVERY PAGE. 99% of all questions have been answered already. I will just delete your question if it's been answered already.

Tip #2: INCLUDE YOUR EMAIL ADDRESS on the Confirmation Page. There is no other way for you to get the answer to your question!

Tip #3: Include details so that I can help you more effectively.. and don't forget to include an email address on the confirmation page

Tip #4: Include a DESCRIPTIVE TITLE that tells about your problem. Saying 'Help Me' or something similarly nondescriptive does not help me to know what the problem is. A title such as "My _______ Level is Not Coming Up" is much more helpful.

Tip #5: If you are on a mobile device, please recheck your spelling and grammar.

Tip #6: Use decent grammar and complete sentences. Most of you are adults who went through over a decade of some sort of compulsory education. Please at least make your questions understandable. If you are not a native English speaker, just do your best.

Tip #7: SEARCH THE SITE FIRST! USE THE SEARCH BOX IN THE TOP RIGHT OF EVERY PAGE. 99% of all questions have been answered already.
Research for This Page
(1) Magnesium intake during pregnancy
(2) Magnesium supplement in pregnancy-induced hypertension. A clinicopathological study
(3) Oral magnesium supplementation improves fetal circulation
(4) Magnesium Deficiency in the Pathogenesis of Disease (Topics in Bone and Mineral)
(5) Serum magnesium level and sleep behavior of newborn infants 


Back to Top of Magnesium in Pregnancy 

To Easy Immune Health Home Page