Magnesium Overdose is Real
Find Out if You are at Risk
Magnesium Overdose is real, but is extremely rare - and for the vast majority of people, is never going to be an issue no matter how much magnesium you take. Magnesium is a water soluble mineral and the body readily excretes any excess in the urine, feces and sweat. And this is where the problem of magnesium toxicity lies.

Anyone with a problem of being unable to eliminate magnesium has the potential to overdose on this otherwise extremely safe substance. When this overdose on magnesium does occur, it is called by several different names, including:

Overdose on Magnesium
Magnesium Toxicity
Hypermagnesemia
any and all of these terms mean the same thing, with the term Hypermagnesemia specifically referring to high Magnesium Blood Levels.
Who is at Risk for
Magnesium Overdose?
This type of problem is almost exclusively in those with impaired kidney function or those who do not move their bowels, including: 

Kidney Failure
Renal Failure
Are On Dialysis
Have chronic constipation
OR
Anyone who sees a Kidney Doctor or Nephrologist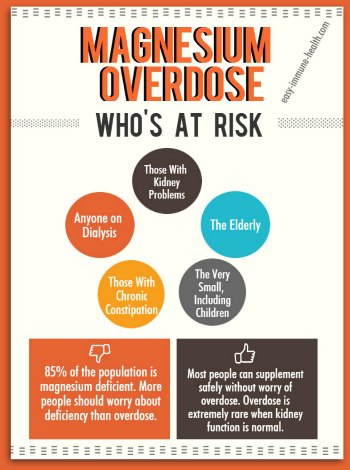 Then you need to speak to your doctor before you start any magnesium therapy as there is an extremely high risk for you to have a Magnesium Overdose. This is ONLY a problem in those with impaired kidney FUNCTION and is not a problem for those withNORMAL FUNCTION but who get recurring kidney infections (which are usually BLADDER infections and not KIDNEY infections). Magnesium ingestion is also not a problem for those who get recurring kidney stones. In fact, those who are calcium oxalate kidney stone-formers can often benefit from the addition of magnesium supplements.

When Should You Worry? 
There are many symptoms of magnesium toxicity, most of which are non-specific and can mimic other health problems. Symptoms can start with simple nausea and weakness, then progressively worsen from that. Later, people can get any number of symptoms including neurologic problems like:
Confusion
Extreme musculoskeletal weakness
Slurred Speech
And cardiac problems such as:
Low Blood Pressure
Slow Heart Rate
If this continues, then it can finally lead to:
Low Temperature
Stopped breathing
Cardiopulmonary arrest
Death

Are You at Risk? 
While magnesium administration is safe for most people, even people with normal kidney function HAVE overdosed on magnesium. Usually, these people had one or more of the risk factors for an overdose. You should be cautious about taking magnesium if you are already taking medications- particularly those that contain magnesium such as antacids or magnesium containing laxatives.
The elderly are at particular risk for many reasons. They can easily take an incorrect dosage, they are often taking other medications, they tend to have more kidney and bowel issues than others and tend to get more dehydrated more quickly- all of which are risk factors for magnesium toxicity.
So, you should be extra cautious for magnesium overdose symptoms particularly if you:

Are Elderly
Have gastrointestinal problems that SLOW transit time such as chronic constipation
Are dehydrated or are not able to take as much fluids as normal
Are taking other medications, particularly laxatives, antacids or narcotics
And while there are several Epsom Salt Uses, you should never swallow Epsom salts as a cleanse or use an Epsom salt solution in an enema. These situations have been the most common reasons for magnesium toxicity in people without kidney problems and should be avoided because of their high risk.
When Not to Take Magnesium
There are other reasons why magnesium should not be taken by certain people, even though there is no more risk of Magnesium Overdose than anyone else, there can be problems from taking magnesium.
Myasthenia Gravis
Those with myasthenia gravis or other neuromuscular transmission disorders can get profound weakness and muscular problems after taking magnesium supplements- even though it is not because of magnesium toxicity. They should not take magnesium unless under the direction of their doctor.
Atrial Fibrillation
Those with current Atrial Fibrillation have the possibility of 'converting' their atrial fibrillation into a normal rhythm by taking a high dosage of magnesium. While this may seem desirable, there is a high risk of having a blood clot ejected from the heart and into the general circulation. This could cause a life threatening condition of a heart attack, stroke or pulmonary embolism. If you have atrial fibrillation, your cardiologist should be directing your magnesium supplementation.
For the vast majority of the population, if you follow the guidelines above and know what your risk is- then Hypermagnesemia is extremely unlikely. In fact, the vast majority of people experience Magnesium Deficiency Symptoms and can benefit from additional magnesium. Know your risk of a Magnesium Overdose, know the symptoms of an overdose and carefully monitor your intake and you can enjoy the health benefits that increasing your magnesium intake can give you- while minimizing the risks. Keep reading to find out how to take a safe magnesium dosage.

Magnesium Resources
See what Others have Submitted about Magnesium
Click below to see contributions from other visitors to this page...

Ask Your Question. It will be posted publicly. READ THE TIPS BEFORE POSTING
Tip #1: SEARCH THE SITE FIRST! USE THE SEARCH BOX IN THE TOP RIGHT OF EVERY PAGE. 99% of all questions have been answered already. I will just delete your question if it's been answered already.

Tip #2: INCLUDE YOUR EMAIL ADDRESS on the Confirmation Page. There is no other way for you to get the answer to your question!

Tip #3: Include details so that I can help you more effectively.. and don't forget to include an email address on the confirmation page

Tip #4: Include a DESCRIPTIVE TITLE that tells about your problem. Saying 'Help Me' or something similarly nondescriptive does not help me to know what the problem is. A title such as "My _______ Level is Not Coming Up" is much more helpful.

Tip #5: If you are on a mobile device, please recheck your spelling and grammar.

Tip #6: Use decent grammar and complete sentences. Most of you are adults who went through over a decade of some sort of compulsory education. Please at least make your questions understandable. If you are not a native English speaker, just do your best.

Tip #7: SEARCH THE SITE FIRST! USE THE SEARCH BOX IN THE TOP RIGHT OF EVERY PAGE. 99% of all questions have been answered already.
Research on Magnesium Overdose


Back to the Top of Magnesium Overdose 

To Easy Immune Health Home Page