Surprising Magnesium Facts
You'll Want to Know

It's likely that these Magnesium Facts will surprise and amaze you!!
If you have health problems of any kind, keep reading and you just might find out that you health problems are simply Signs of Magnesium Deficiency!
The Magnesium Facts:
#1 Magnesium is a 'Master Nutrient'
The Magnesium Facts show that magnesium is even MORE than an important nutrient in its own right, but that it is ABSOLUTELY ESSENTIAL to be sufficient in magnesium in order to be able to be sufficient in OTHER nutrients as well!
What this means is that if you are deficient in magnesium, other nutrients that you are taking may not be going where they are supposed to be going or doing what they are supposed to be doing! For instance, there is much research that magnesium is required for the absorption of MANY nutrients including:

Even MORE interesting is that in cases of Low Potassium Levels, giving ONLY magnesium will correct the POTASSIUM deficiency in many cases- when giving the potassium by itself WITHOUT the magnesium will NOT correct the potassium deficiency!
Interesting magnesium facts, huh?
Too bad that doctors aren't aware of this. In the hospital, there are many patients that have a curious phenomenon of requiring LARGE quantities of potassium supplements. In studies, magnesium supplementation solved this problem- without even GIVING potassium, but doctors in clinical practice have not discovered this trick.
Fun Magnesium Facts
You Don't Need Pills or Food to
Get Plenty of Magnesium
Just Rub Transdermal Magnesium Gel Right Into Your Skin
For a Quick Magnesium Supplement
It Really Works!

#2:Fibromyalgia and Chronic Fatigue
What Your Doctor Won't Tell You

Magnesium deficiency is the DEFINITE cause of a condition called Latent Tetany Syndrome- or just Tetany Syndrome. This condition has elements of extreme all over body pain, fatigue and mental problems. It is also VERY difficult to diagnose because it almost always occurs with a NORMAL blood Magnesium Level.
While you may not have heard of this problem, I'm sure that you HAVE heard of Chronic Fatigue Syndrome and Symptoms of Fibromyalgia. Well, the relationship between latent tetany syndrome, Fibromyalgia and Magnesium deficiency may be SO strong that they are actually THE SAME problem!!
The only difference between people who get diagnosed with Latent Tetany Syndrome and Fibromyalgia is that one group actually has it's Magnesium Level closely checked and one doesn't.  Imagine being wrongly diagnosed with an incurable illness simply because you were not checked for a simple vitamin deficiency!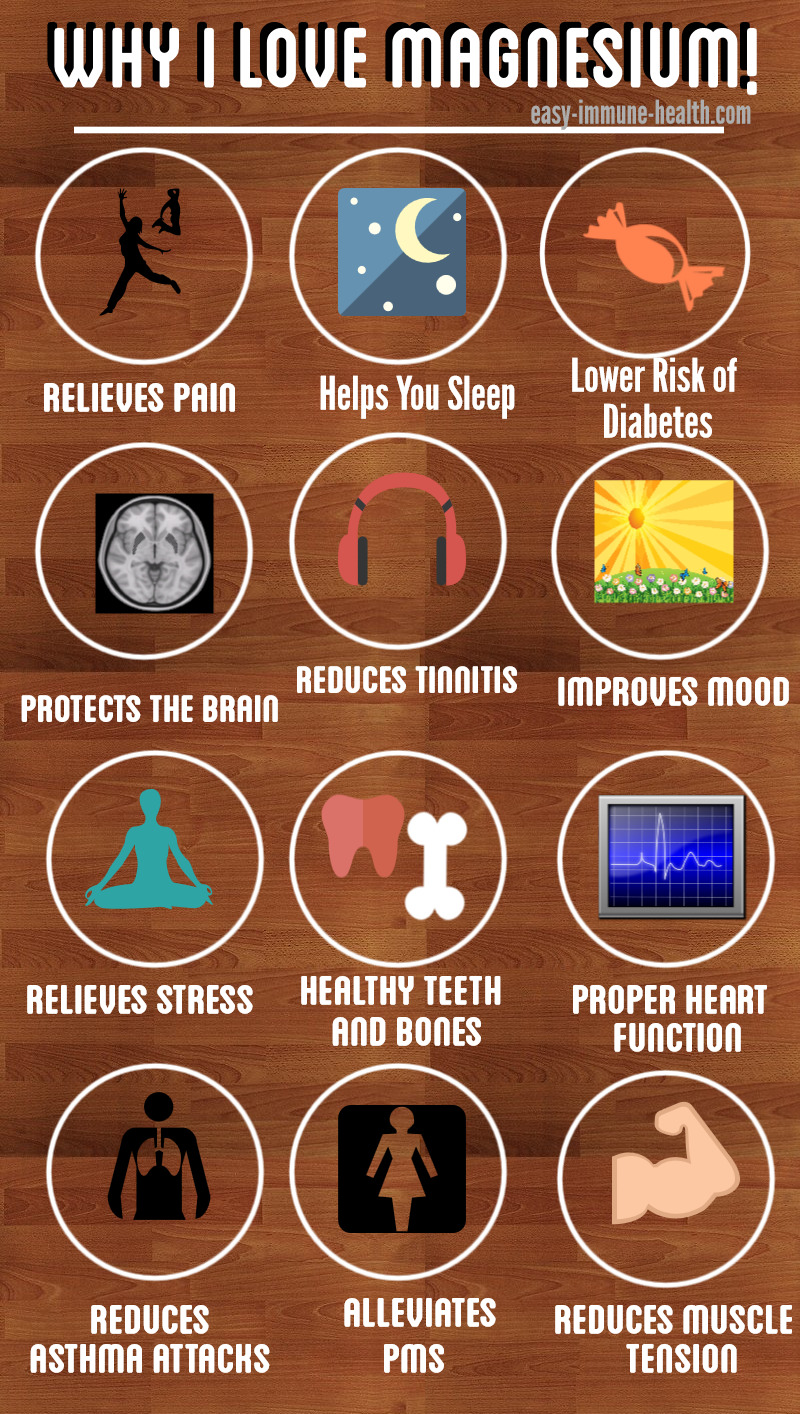 #3: Low Mag Levels Interfere with Pharmaceutical Drugs

As well as interfering with the absorption of nutrients, low Magnesium Levels also interfer with the absorption of some drugs.
One drug in particular, a heart drug called digoxin, is used to treat an abnormal heart condition called atrial fibrillation. In one study, patients with this fast heart rhythm required twice as much of the drug digoxin to slow their heart rate when the patients had low magnesium levels.
In some studies, the atrial fibrillation actually changed into the correct heart rhythm using ONLY magnesium and NO DRUGS- which are usually required for this heart problem.
Some Drugs CAUSE Low Magnesium Levels
Some drugs are well known to CAUSE magnesium to be excreted, a condition called magnesium wasting syndrome. This issue was briefly discussed on the Heart Failure Death page where a class of drugs called Diuretics, also known as water pills, end up depleting magnesium and potassium levels and contributing to the high incidence of patients with heart failure who experience sudden cardiac death.
Other drugs that can cause magnesium wasting are:
Cetuximab- a drug for cancer

Cyclosporine- an immunosuppressive drug
Aminoglycosides- a class of antibiotics that includes: Gentamin Tobramycin Amikacin Streptomycin Neomycin

Amphotericin B- a strong antifungal drug
Cisplatin- a chemotherapy drug

Pentamidine- an antimicrobial used in AIDS patients
Capreomycin - a tuberculosis drug

Ribivarin - an antiviral medication

Levaquin and other Quinolone Antibiotics- This is a particularly nasty side effect that leads to a condition known as Levaquin Tendonitis or Levaquin Toxicity that can even cause lifetime disability in previously healthy young people.
and there are likely more. Low magnesium levels, technically termed hypomagnesemia is a quite common - and almost completely overlooked- side effect of many different drugs. While it would seem prudent to simply recommend magnesium when any of these drugs are prescribed, this almost never happens.

#4: Could Mental Illness Just Be
Low Magnesium Levels? 
People who have Psychotic illnesses like schizophrenia tend to have lower Magnesium Levels than the rest of the population. However, and interesting magnesium fact about antipsychotic medications is that they actually RAISE intracellular magnesium. The increased magnesium levels correlate with an improvement in symptoms. Researchers speculate that antipsychotic drugs actually work because they raise magnesium levels! 
But once you see the dangerous Side Effects of Antipsychotic Medications, you might want to try simply taking magnesium FIRST to see if that helps your symptoms!

There are so many more magnesium facts, that entire books have been written on it! Really, so many problems can be attributed to magnesium deficiency that it all can't be put on one page. From seizures to diabetes to heart issues, the Symptoms of Magnesium deficiency are vast. Keep reading to find out more about how magnesium effects you...
See what Others have Submitted about Magnesium
Click below to see contributions from other visitors to this page...

Search this Site
Ask Your Question. It will be posted publicly. READ THE TIPS BEFORE POSTING
Tip #1: SEARCH THE SITE FIRST! USE THE SEARCH BOX IN THE TOP RIGHT OF EVERY PAGE. 99% of all questions have been answered already. I will just delete your question if it's been answered already.

Tip #2: INCLUDE YOUR EMAIL ADDRESS on the Confirmation Page. There is no other way for you to get the answer to your question!

Tip #3: Include details so that I can help you more effectively.. and don't forget to include an email address on the confirmation page

Tip #4: Include a DESCRIPTIVE TITLE that tells about your problem. Saying 'Help Me' or something similarly nondescriptive does not help me to know what the problem is. A title such as "My _______ Level is Not Coming Up" is much more helpful.

Tip #5: If you are on a mobile device, please recheck your spelling and grammar.

Tip #6: Use decent grammar and complete sentences. Most of you are adults who went through over a decade of some sort of compulsory education. Please at least make your questions understandable. If you are not a native English speaker, just do your best.

Tip #7: SEARCH THE SITE FIRST! USE THE SEARCH BOX IN THE TOP RIGHT OF EVERY PAGE. 99% of all questions have been answered already.
Go Back to Top of Magnesium Facts Page