Magnesium for Migraines
Magnesium for Headaches
Could Magnesium Benefit You?
Magnesium for Migraines and magnesium for headaches is a very well researched topic in the literature, but you would never know it talking to your doctor. If you were to read all the studies on the subject of magnesium for migraines, you would think that this natural substance would be used in every emergency room in order to solve and fix the underlying CAUSE of the migraines in the first place. But if you would think this, you would be wrong.
Despite an abundance of studies showing that those with migraines have lower Red Blood Cell Magnesium Levels in general, and the fact that the vast majority of those in these studies saw benefit from magnesium for headaches, there are virtually no doctors or hospitals encouraging their patients with migraine headaches to take magnesium for them. And this is such a shame because migraine headaches are not only excruciatingly painful, but generally have few effective remedies.
Magnesium for Migraines
Treatment In the Hospital

People with migraines have lower RBC Magnesium Levels and Lower Magnesium Blood Levels, and the vast majority of those in these studies saw improvement from migraines when given magnesium- yet there are virtually no doctors or hospitals using intravenous magnesium for migraine headaches. This is a shame because migraine headaches are not only excruciatingly painful, but generally have few effective remedies.
"We hypothesize that
low brain magnesium
is an important factor
in the mechanism of the
migraine attack."
Low Brain Magnesium in Migraine
In the hospital and emergency rooms, most often strong narcotic medications are given that have many unpleasant side effects, but in research studies intravenous magnesium is given with excellent results and few side effects. And since magnesium is already in stock, is readily available in hospital emergency rooms and has few side effects when given intravenously, it's baffling that almost no one is using this effective substance in real life situations where it has been shown to be of great benefit in research studies.

Magnesium for Migraine
Headache Prevention

Since most doctors will tell you that they don't know WHY people get migraines, they believe that there are few ways to prevent migraines from occurring. But magnesium is not only an effective emergency treatment for migraines, but it has been shown to be an extremely effective headache prevention strategy as well. There have been several excellent large scale studies where migraine sufferers were followed for months taking magnesium supplements at home. The results showed that there was a significant decrease in number of migraines experienced.
Do You Get Nausea
With Your Headaches?
Just Rub
Transdermal Magnesium Gel
Right Into Your Skin
When You Have a Headache.
No Pills Required!
What should be noted about these studies showing magnesium for migraines prevention, too, is that using magnesium solves the underlying CAUSE of the migraines in the first place. By following the instructions on the Magnesium Dosage page, you can find the right daily dosage for your individual needs. What an elegant and simple solution to such a painful problem when it actually fixes the reason why you get migraines in the first place. Who wouldn't want THAT!

Magnesium for Migraines
Managing Acute Attacks at Home

For those of you who suffer from migraine headaches at home, aside from taking magnesium regularly as per the Magnesium Dosage page to keep from having migraines, you can also use an effective strategy in an ACUTE phase at home.
Stocking Magnesium Bath Flakes at home and soaking in a magnesium salts bath has been known to effectively and quickly reduce or eliminate the pain of a headache or migraine. The combination of the warm relaxing bath and the magnesium that is able to soak right through your skin is a One-Two punch that has been used by many people to feel better quickly- it's one of the really great Epsom Salt Uses.
If you don't have a bathtub or you tend to get headaches when you are at work, then you can use Transdermal Magnesium Gel to rub right into your skin to get a magnesium supplement right away even if you have nausea with the headaches and can't swallow pills.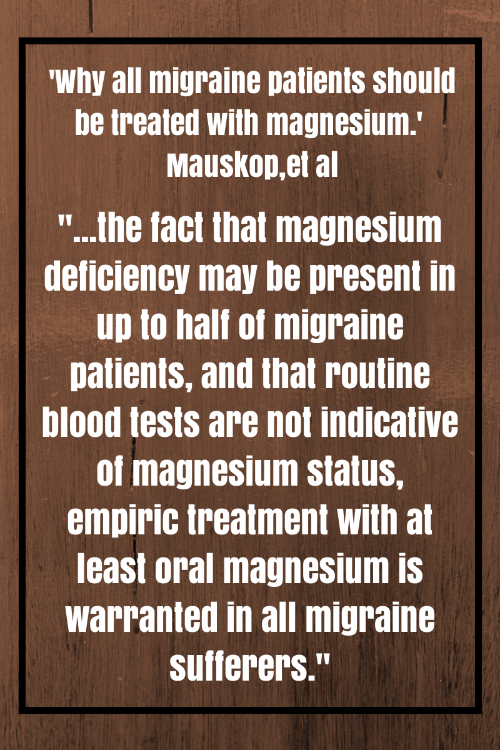 So, why don't doctors use Magnesium for Migraines when it obviously:
Is effective at reversing acute migraines Resolves the underlying cause of migraines

Can be used to effectively PREVENT headaches

Is much less expensive than migraine medications

 Could prevent thousands of Emergency Room visits

Has minimal Magnesium Side Effects
While that is an excellent question. The next time that you see your doctor, you may want to ask him why he never suggested that you try Magnesium for Migraines as a safe and effective way to resolve your pain. Keep reading to find out what OTHER signs of magnesium deficiency you have that your doctor is completely missing...
Next --->
Signs of Magnesium Deficiency
Magnesium Resources

Research For Magnesium and Migraines

See what Others have Submitted about Magnesium
Click below to see contributions from other visitors to this page...

Migraines when I take Vitamin D
I have been taking chelated magnessium ( 250 md/day) after figuring out that vitamin D was giving me a migraine. I have reduced the vitamin D from …
Magnesium and Migraines?
Just today I discovered the link between Magnesium deficiencies and Migraines. After suffering from Migraines for years now and trying EVERYTHING I purchased …
Magnesium and migraines/fatigue
I get a lot of headaches/migraines also I never have any energy. What type of magnesium should I get that would benefit me best also I drink about 32oz …
Search this Site
Ask Your Question. It will be posted publicly. READ THE TIPS BEFORE POSTING
Tip #1: SEARCH THE SITE FIRST! USE THE SEARCH BOX IN THE TOP RIGHT OF EVERY PAGE. 99% of all questions have been answered already. I will just delete your question if it's been answered already.

Tip #2: INCLUDE YOUR EMAIL ADDRESS on the Confirmation Page. There is no other way for you to get the answer to your question!

Tip #3: Include details so that I can help you more effectively.. and don't forget to include an email address on the confirmation page

Tip #4: Include a DESCRIPTIVE TITLE that tells about your problem. Saying 'Help Me' or something similarly nondescriptive does not help me to know what the problem is. A title such as "My _______ Level is Not Coming Up" is much more helpful.

Tip #5: If you are on a mobile device, please recheck your spelling and grammar.

Tip #6: Use decent grammar and complete sentences. Most of you are adults who went through over a decade of some sort of compulsory education. Please at least make your questions understandable. If you are not a native English speaker, just do your best.

Tip #7: SEARCH THE SITE FIRST! USE THE SEARCH BOX IN THE TOP RIGHT OF EVERY PAGE. 99% of all questions have been answered already.
Back to Top of Magnesium for Migraines

To Easy Immune System Health Home Page