Vit D and Calcification of the Arteries - Heart Disease
by Priya Nath Mehta
(Mussoorie, Himalayas, India)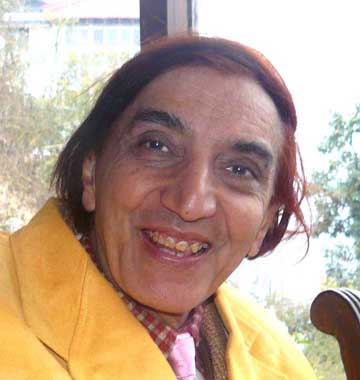 Priya Nath Mehta - Nathji, at Mussoorie, India
There are people who seem to think that Vitamin D in large doses can lead to calcification of the arteries in the body and also the coronary arteries.


They also believe that this is more likely to happen if the calcium intake is about 1200 mg per day. That it is the combination of the Calcium with Vitamin D that can cause more calcium to be deposited in the arteries leading to calcification. And therefore Vitamin D might be harmful for the heart.
In fact the "calcification" scare is so great that once I almost stopped my Vitamin D as I heard of things like calcification of the arteries, aorta, and kidneys and even areas in the brain leading to stroke. Some even said that it had caused corneal deposits in the eyes.
Yet there are others who say that Vitamin D can actually help to clean out arteries and to take out the calcium from the arteries and deposit it in the bones where it belongs. And that research seems to point out that
Vitamin D Deficiency
is a greater cause of heart disease.
While they say that some research has been done to show that addition of Vitamin D actually helped in PAD, peripheral artery disease, cleaning out arteries, but no research has been done by adding Vit D to heart patients, to see how their coronary arteries respond. They only talk about it indirectly -- namely that people with heart disease have been shown to have low levels of Vit D.
Then again there is another scare about Vit D and heart disease -- namely that people say that their LDL has gone up after large doses of Vitamin D. And that this could be contributing to heart disease.
However there are others that say that their HDL, the good cholesterol has also gone up. Thus the total cholesterol goes up each time one takes Vitamin D which is because of the high levels of HDL -- and maybe LDL? And what of trigylcerides? Some say their triglycerides went up after Vit D doses.
Is there any clear cut answer to these vital questions, basically two -- does Vit D
cause calcification or does it remove calcification of the arteries? Does Vit D cause high levels of HDL, LDL and triglycerides or does it cause high HDL but no high LDL or no high triglycerides?
It would be wonderful if you could clarify these questions which have been perplexing me and many others like myself since a long time, with no one giving any clear cut answers thus far. Maybe you will, I am confident.
Thanking you in anticipation for your kindness and care.
Yours,
nathji
______________________________________
ANSWER:
Hello again Nathji,
You have definitely been doing your research. And these truly ARE perplexing questions. I actually have never heard of the problem of calcification with vitamin d before- and I think that COULD be because I do ALL of my research by reading peer reviewed studies and I do NOT read message boards and things like that.
When I answer questions, it is PURELY from the research. So, in ALL of the research that I have read, I have NEVER heard of calcification as a problem, which is why it is not included on my
Vitamin D Side Effects
page.
Certainly
Vitamin D Toxicity
may cause calcification, as in
This Animal Study
. But I also rarely read animal studies- only human studies as that is what is important for practical application in real life.
So, this study says
Active Serum Vitamin D Levels Are Inversely Correlated With Coronary Calcification
and women who have osteoporosis have a higher incidence of heart disease.
So, there have been fairly extensive studies of high dose vitamin d for fairly lengthy periods of time. One of these, that is at the VERY BOTTOM of my
Vitamin D and Breastfeeding
page, gave women 6700 IU's of Vitamin D for 6 months without any calcifications- or any other problems.
And if you look on the
Vitamin D Toxicity
page, it talks about how East Germany gave infants 600,000 IU's all at once every 3 to 4 months until they were 18 months with no calcifications. Many of these babies temporarily had high calcium levels, but these resolved and there did not seem to be ANY problems with these children. (continued below....)