Interpreting Vitamin D Blood Test Results
What's the Right Dose of Vitamin D injections?
by Om Ali
(Kuwait, Kuwait city)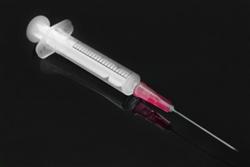 Vitamin D injections can Increase
Your Vitamin D Blood Level Too
I have tested my vitamin d3 level and it is 35.47 nmol/l and the normal range is written on the result paper to be 50-80 nmol/l.


Is my
Vitamin D
blood level too low?
My doctor has Prescribed for me three
Vitamin D Injections
, each of a concentration of 600,000 IU, each one to be taken once per month for 3 months.
Shall I take those injections?
After that, should I take supplements daily?
I am scared that this vitamin d3 deficiency causes other diseases and especially, I'm scared of cancer.
So do I need to take a daily dose or supplement of vitamin D3 to prevent cancer?
If yes, what is the dose needed for me to take everyday according to my test results of vitamin d3 and which brand of vitamin d3 supplements do you recommend?