Vitamin D and Kidney Stones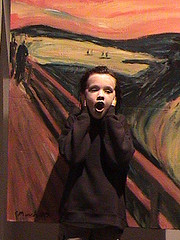 Kidney Stones can Make You Want to Scream
I have suffered with kidney stones since I was 16 and am now 57. would there be a problem taking extra vitamin D supplements and having more kidney stones? I have never had my Vitamin D levels checked.



Photo by Mr.Dork esq.
Click here to read or post comments
Return to Question About Vitamin D Side Effects?.
Vitamin D Therapy and Kidney Stones...
by Loretta B
(Bayside, NY)
A few years ago after taking calcium and vitamin D
supplements I developed a calcium kidney stone. Since that time I stopped taking calcium supplements.

Since I was just told that I had a low Vitamin D level (53nmol/l or 17 ng/ml) I just purchased Vitamin D3 1,000 IU and will be taking this with a Centrum Ultra Vitamin for women (which contains 400 mg of Vitamin D).

Could this total amount of Vitamin D contribute to possibly a future kidney stone? I don't want to end up in the hospital again.

I just received my bone density test back and it was normal so I think I really don't need the calcium.

Any advice you can give will be greatly appreciated.

Loretta B.

Click here to read or post comments
Return to Question About Vitamin D Side Effects?.
Dr. says I can't Take Vit. D because I had kidney stones
by Erica
(MI)
Hi,

I read your answer to a question in which you said, "there is virtually ZERO evidence that Vitamin D would have anything to do with you getting another kidney stone."

My nephrologist made me stop taking any vitamin D supplements when he put me on hydrochlorothizide and said that it could cause me more kidney stones. He feels strongly about this and so do other doctors I've spoken with. I felt better when I took vitamin D and would really like to still take it.

I was wondering if you can cite any research articles that disprove vitamin D increasing the risk for kidney stones?

Thanks for any help.

Click here to read or post comments