Living Gluten Free in Cambodia
by Lucy
(Cambodia)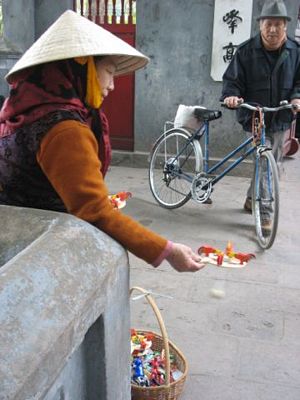 Living Gluten Free in Cambodia is a Challenge
I started living in Cambodia 4 years ago. As hygiene is not of high importance at this stage in Cambodia, parasites are a common problem and i regularly take worm medicine to clean myself out. But more and more i was experiencing diarrhea and constipation, bloated tummy with cramps, fatigue and generally feeling down.
Mouth ulcers have always been a problem as are pimples. I kept putting all these things down to living in Cambodia. 2 years ago my parents came to visit me and Dad was quite sick while he was here. When they got home his symptoms didn't get any better.
After many courses of antibiotics there was still no improvement. Then the doctor called and told him he had good news and bad news. The good news was that he had worked out what was wrong with dad, the bad news was he has Celiac Disease! I went home for Christmas and decided it couldn't hurt to get tested for celiac as it is a hereditary disease.
Lo and behold, I have Celiac Disease too. It was nearly a relief to be given this news. It explained so many things that I had wondered about but couldn't explain. So I am still living in Cambodia and trying to be gluten free. I find this to be quite a challenge. With the language barrier and people here having no concept of gluten, it feels impossible to eat out and be sure of no gluten. I know this is being spoiled and I can cook at home, but eating out is a big part of the lifestyle here. Its about the same cost to eat at home as it is to eat out!
I am learning it is worth the effort and the sacrifices to avoid gluten at all costs.... besides I am quickly finding alternatives to many things I used to eat.