Could this Itching, Fatigue, Bloating and Costipation be Gluten Sensitivity?
by Heather
I will try to be as brief as I can...wondering if the following could be do to gluten sensitivity or not.


1) Skin itchiness - usually it is very small spots, size of a pin head (or follicle). Sometimes there is a small bump like a goosebump, other times it is just the itch. Extremely itchy and I get sores from scratching that take a long time to heal. This started just over two years ago when I moved to a new city. Have changed skin products (mostly natural or organic), detergents, purchased a water filter for my shower, etc. Limited helpfulness.
Possible allergies but it has been two years and I haven't built up any tolerance yet? Husband and son have allergies but have not had this skin issue just me.
2) Gassiness, bloating, weight gain, constipation - have had troubles with IBS with constipation for several years. I had a child four years ago and lost nearly all the weight after giving birth but two years ago it started coming back again. It is all over but I have especially noticed more bloating and fat in the belly area than ever before. Ongoing effects of constipation? Age? Or gluten intolerance?
3) Fatigue, anxiety - I have always enjoyed a nap when possible but lately it seems like I "need" it, especially notice after eating that I am very fatigued. Have had issues with anxiety the past year or so.
4) Pins and needles feeling - sometimes feel prickliness in arms and legs, esp feet. My mom is type-two diabetic, so was my grandmother. While I am slightly overweight, I don't think I am actually diabetic (perhaps pre-diabetic?)
5) Headaches and nasal congestion - Usually not bad enough to be bothersome, or maybe I am just used to it. Often if I have a headache and I massage the brige of my nose or the base or my head where it meets my neck, my sinuses will drain even though I didn't realize I was stuffy. Again, this seems to be more of an issue in the last couple of years.
I think that is everything! About me: 39 year old female, one son, moved from central Illinois to Milwaukee in Spring 2008. Would love to know if these symptoms are related and what I can do. Thank-you so much for whatever light you can shed as this is affecting so many areas of my life...almost to the point of being debilitating.
Click here to read or post comments
Could Feelings of Fullness, Bloating and Weight Loss be Gluten Sensitivity
I am a 43 year old male.

I have a history of problems digesting foods, mild reflux, mild gastritis, low B12. Have had lots of tests including gastroscopies but nothing has been found.

Last April, after eating (for two weeks) all the foods that I know are not good for me I started to have chronic feelings of fullness and bloating even after very small meals. I can hardly tolerate any foods now.

I have lost 7 kilos since April and my doctor said it could be IBS or functional dyspepsia. No drug, homeopath remedy or acupuncture seem to help. I am eating lots of Parmesan cheese and toasted pita bread, porridge, steamed zucchini and cooked apples. This has been going on for 6 months now and it effects my life everyday, every meal actually.

My daughter as a young child had very bad eczema which went away after stopping eating gluten and dairy products. Could I have the same problem? Please help!!!

Thank you!


Click here to read or post comments
Bloated Beyond Belief!
by M. Wade
(Austell, Ga.)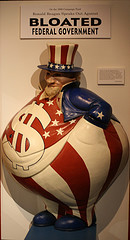 If You Think You're Bloated, You Should Check Out Government Expenditures!
I am 41 yrs old and 5'4. I weigh 180 lbs. Every part of my body is proportioned well except my stomach.

I look like i am pregnant and my abdomen is hard as a rock. I crave milk constantly.

I drink skim to try and cut down on weight gain, however after the first sip of milk I drink, my stomach is very tight.

Does this sound like a symptom of Gluten Sensitivity?




Photo by Randy Son of Robert
Click here to read or post comments
Stomach Bloating all of the Time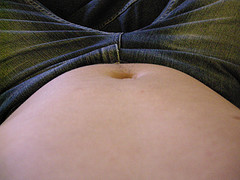 Stomach Bloating all of the Time

Photo by Super Fantastic
How does one get so bloated that I look about 6 months pregnant?
My stomach is like a rock! Is this a sign of celiac disease or gastroparesis?
Click here to read or post comments
Could my Infertility, Fatigue, Bloating and Cramps be From Celiac Disease?
by Davida
(New Mexico)
I have been infertile for at least seven years now with no diagnosed reason. I have been experiencing Stomach bloating, diarrhea, fatigue and cramps for just as many years or more. I have removed gluten from my diet and seam to be doing better.

I do not suffer from Excess gas and stomach bloat. Is there anything else I should be trying? My doctor just diagnosed me with Chronic Fatigue syndrome last July, said I tested positive for Epstein-Bar virus. My Doctor is kinda old fashioned and I spent a bunch of money to get vitamin b shots every month for six months before I tried store bought vitamins so I am not excited about seeing him for this. Any suggestions?

Than you,

Davida
Click here to read or post comments