The Ultimate Vitamin C Supplement
Designed For Mega Doses
Without Stomach Problems
Same Product as Bio-Ener-C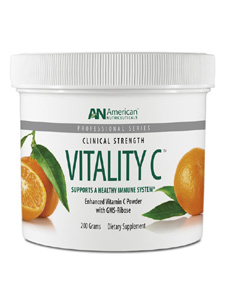 Each serving of Vitality C, The Ultimate Vitamin C Supplement, has a unique form of Vitamin C that has been specially formulated for increased absorption and has been further enhanced with 2000 mg of GMS-Ribose for increased bio-availablility and higher doses for Mega Dose Vitamin C uses, just as Dr. Linus Pauling recommended.

VITALITY C
IS IDENTICAL TO
LONGEVITY PLUS BIO-ENER-C


Taste the difference! Drink this unique formula with GMS-Ribose designed by G.F. Gordon, MD, DO, MD(H) to conveniently provide benefits of higher absorption and mega dose vitamin C.
Learn Why Vitality C and Bio Ener C are So Amazing and Unique
Vitamin C is so deficient in our diets that everyone is placed at increased risk of not living to their intended lifespan due to lack of vitamin c supplements. If you get adequate vitamin C, you'll have fewer infections, you'll get rid of heavy metals, the question has only been 'how much' you need to do these things. Ideally, you could put the Vitamin C in your veins, but we can't all do that. And oral vitamin c has the disadvantage of causing digestive problems before meeting the daily needs.
What we have in Vitality C is a Vitamin C Supplement with a Delivery System that puts the Vitamin C directly into your cells. Every 1/4 teaspoon contains 1000 mg, and almost anyone, even those who could never take more than 1000 milligrams before getting digestive problems can now take 4000 milligrams in the morning and 4000 mg at night without having any problems, in most cases. Dr. Linus Pauling thought that we should get closer to 16,000 milligrams per day, and with Vitality C, most people can now get close to doing that. Finally, a pleasant tasting, wonderfully therapeutic, non-acidic, neutral pH high potency Vitamin C drink.*
*These statements have not been evaluated by the FDA. This product is not intended to diagnose, cure or prevent disease.
Suggested Use: Adults, 1 to 4 teaspoons daily in juice or water. For imbalances, one tsp. every one to six hours. Children under 10 yrs of age, take as directed by physician. Unique synergistic formula permits consuming mega doses of Vitamin C with minimal gas or diarrhea.
Supplement Facts
Serving Size: 1 slightly rounded teaspoon, Servings per container: 30
Supplement Facts
Serving Size: 1 Slightly Rounded Teaspoon (6.6 grams)
Servings Per Container: 30
Ingredients
Amount Per Serving
% Daily Value
Vitamin C
(L-Ascorbate C Crystals with FASM***)
4000 mg
6666%
GMS-Ribose ***
2000 mg
*
* Daily Value not established.
** L-Ascorbate C crystals with FASM, a unique Firmly Attached Sodium Molecule, are buffered at a non-acidic, neutral pH. This eliminates or greatly reduces the usual intestinal distress that occurs with some persons taking large amounts of Vitamin C.
*** GMS-Ribose™ Glycine Methyl Sulfone Ribose is a patented proprietary blend of methylated glycine, as complexed with methyl sulfone (MSM), in a base of Beet Source Ribosomal RNA with Ribose Nucleotides including D-Ribose/Malate™ with Bioperine, a piperine extract in a patented form, and EDTA. Each 1000 mg of Vitamin C activity provides 120 mg of elemental sodium.
Individuals on a sodium restricted diet may wish to consult with their health care professional.
Product color may vary due to humidity conditions with no loss of potency. Do not refrigerate. Store at room temparature.

KEEP OUT OF THE REACH OF CHILDREN.

Details
Weight

0.60 lbs

lbs
Pkg Quantity
200 Grams
Market price:
$ 39.75 NOW 10% off
Price:
$ 35.78


Back to Top of Vitamin C Supplement
Keep Shopping At the Health Clinic

Back to Top of Easy Immune Health